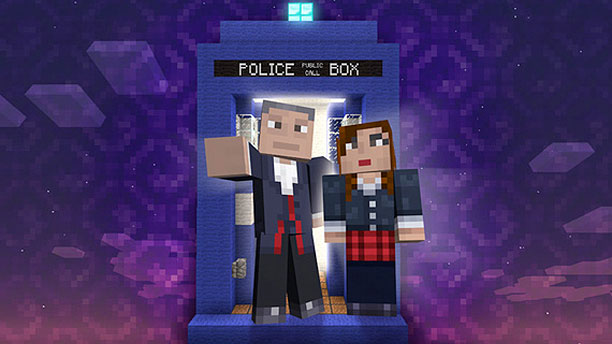 For some Doctor Who fans, this may be a trip into a previously unknown dimension, although there are undoubtedly travelers in this realm sitting not to far from where you are right now.
Minecraft is an online and console game in which players can create their own landscapes using blocks of material that they dig up. It is astonishingly popular, particularly as an XBox 360 game—the fastest selling game in XBox history—and it's only natural that Whovian Minecraft fans would seek to put the TARDIS or the Doctor in among the Enderman, Creepers and Skeletons that roam the land at night.
But now there's an official Doctor Who skinpack on the way, arriving next month, which allows Minecrafters to play as the Twelfth Doctor (or one of five other Doctors) or one of his companions, or even a Dalek, Ice Warrior or Zygon.
The first skinpack will cost $2.99, with further packs planned to complete all of the Doctors and some his most well-known friends and foes.
This is not, however, the first time the Doctor or the TARDIS have appeared in Minecraft. Thanks to the building block nature of the game fans have been able to create their own Whovian tributes and post them on YouTube.
These can be purely architectural, like this astonishingly detailed Doctor Who rollercoaster, by CoolSuperBro:
https://www.youtube.com/watch?v=UvYvP0vo9UU
Or contain speech and narrative, like this First Doctor adventure "Prisoner of the Daleks"
This has to be the peak so far though. A 13-minute animated Doctor Who Minecraft adventure called "Ender The Doctor," made by keyboarder200
Which, all in all, make those Minecraft blocks a lot more useful than this lot:
See more:
'Doctor Who' Recap: 'Deep Breath'
WATCH: 'Doctor Who' Teasers For 'Into The Dalek'
'Doctor Who': Look Back at the Doctors' First Episodes
The Complete Guide to Streaming 'Doctor Who' in the U.S.
Read More
Filed Under: