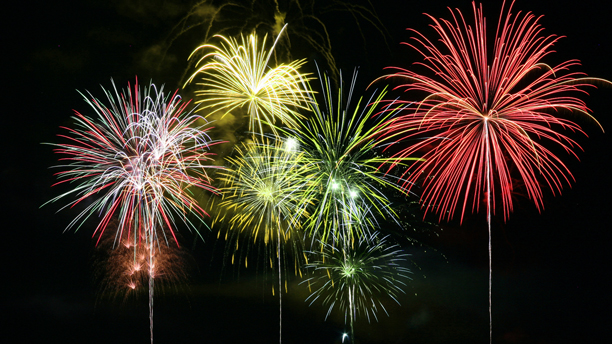 As we know, this country is huge and varied, so a real bucket list could fill a book. However, there are a few things I'd recommend all Brits in America do while they're here. (Please feel free to add your recommendations below.)
Eat something you'd never find in the U.K.
Although many American food chains have crossed the Pond and Marks and Spencer now sell an "American style Mini Sub-Roll Platter", there are still a lot of foods here that you either wouldn't find, or wouldn't try, back in Blighty. Go on, treat yourself to some State Fair food, a massive New England lobster chow down, pigs' trotters, perhaps some Southern fried rattlesnake or Rocky Mountain oysters. It makes for great conversation at the very least!
Attend a sports event
Whether it's baseball, (American) football, hockey or basketball, you can't beat American sports events for pure atmosphere. They are often more of an occasion to drink bond with friends however, so Brits may find themselves unable to concentrate on the actual sport because of all the whooping, hollering and "visiting." When my British brother attended a U.S. sporting event, I think his exact words were, "Why don't they just sit down and watch the ball game?" And, in all the time I've been going to baseball games, where beer sellers walk the aisles and you can buy hard liquor along with your brats, I've never encountered violence. I've been sloshed down the back a few times as people pass the drinks along the row, I have to admit!
Visit an iconic sight or a national treasure
Obviously, your budget will dictate what you get to see in the U.S. but the good news is there are places of historic interest all over the country. This web site helps you find your nearest treasures, and there's quite a range. From President Lincoln's cottage in Washington D.C. to the Hotel de Paris Museum in Georgetown, Colorado, there are historical spots across the land and often off the beaten track. Alternatively, you could pick a few of the U.S.'s most iconic sights, such as the Statue of Liberty, the Golden Gate Bridge, the Grand Canyon, the Willis Tower, the list goes on. They're iconic for a reason and well worth a visit.
Do something "typically" American
Again, budget and personal preference dictate your choice here but options range from dude ranching (which, let's face it, just can't be replicated in the U.K.), attending a Macy's parade, to July 4th fireworks. Or it could be something much simpler. Two decades ago, I worked with an Australian who wanted to eat Chinese out of a square paper carton and see steam coming out of a manhole. Whatever floats your boat; just make sure you check it off that list.
Experience the great outdoors
And not necessarily in your own state. With 49 others to choose from, there is a staggering beauty everywhere and hundreds of activities to suit everyone. Here's a fantastic web site to give you some ideas in each state, although its suggestions for Indiana ("Enter a pie-eating contest") and Pennsylvania ("Win a food fight") aren't quite what I had in mind. Colorado, for example, isn't just a ski state; in the summer there's also white water rafting, cycling, and hiking.
Take a road trip
Okay, so admittedly, this isn't every Brit's idea of a good time. We're just not that into driving. However, as long as you don't overdo* it, you could find yourself having fun. The key is to plan your trip rather than just driving from A to B. If possible, take a route with points of interest along the way and travel in a comfortable vehicle. There are some well-established routes, such as Route 66, or the Pacific coast route. It's even better if you can do it in an RV, which is my personal bucket list item.
*Overdoing it is obviously very subjective. For me, it's having to get up at silly o' clock, driving for more than three hours without a stretch break, sitting in bucket seats or driving in extreme winter weather.
Want to discover the hidden gems of U.S. travel? Join @MindtheGap_BBCA and guest co-host @BBC_Travel on Twitter on Wednesday, September 3 from 2 to 3 pm ET for the inside information. Tweet your questions using hashtag #MindTheChat for a chance to win The Thick of It: The Complete Collection on DVD, courtesy of BBC Shop.
See more:
10 Affordable U.S. Travel Destinations – and How to Experience Them on a Budget
Traveling DIY Style: Tips for Brits Planning U.S. Holidays
Themed Vacations: Ideas for Brits in America
Read More
Filed Under: