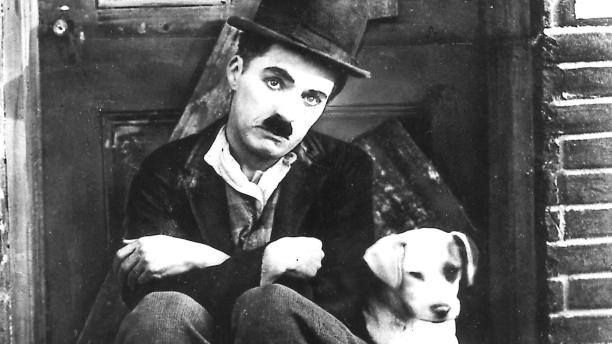 In the latest entry in our Anglophenia Video Series, Siobhan Thompson spotlighted the Chaplins as one of the greatest British acting dynasties. For this week's Brit Binge, then, we thought we'd take a look at the man at the head of the family, Charlie Chaplin.
Born Charles Spencer Chaplin in South London in 1889, he overcame childhood hardship to become the foremost comedy star of Hollywood's silent era—and was also a rare example of a silent star successfully moving into talking pictures. Here's our selection of five films that you can watch online which show the broad nature of his seven-decade career:
1. The Kid
Chaplin's first full-length film as a director, following a successful decade in shorts, was a phenomenal hit: the second highest-grossing movie of 1921, in fact. It's as much a drama as it is a comedy, as it sees Chaplin's famous Tramp character unwittingly adopting an abandoned child, who grows to become his young partner in grifting. Co-starring as the titular "Kid" also gave Jackie Coogan his big break—the actor would go on to become the first major child star in Hollywood, before later finding adult fame in the Addams Family TV show.
Watch The Kid on Amazon Prime/Instant Video.
2. The Gold Rush
This 1925 film was, according to Chaplin himself, the one for which he most wanted to be remembered. This time around the Tramp takes part in the Klondike Gold Rush, naturally encountering all manner of mishaps in the process. Unusually, in 1942 Chaplin chose to re-release the film with a specially-recorded new score and narration, and the new version earned an Academy Award nomination for sound design.
Watch The Gold Rush on Hulu.
3. The Great Dictator
A breathtaking piece of satire: it's hard to imagine anybody making a film lampooning the rise to power of Adolf Hitler after the Second World War had actually begun, but that's exactly what Chaplin did in 1940, playing on the noted similarity between the pair's choice of facial hair. It ends with a lengthy polemic in which Chaplin directly addresses the audience, which at the time was not looked on favorably by critics, but in retrospect is considered to be one of his finest hours.
Watch The Great Dictator on Hulu Plus.
4. A King in New York
https://www.youtube.com/watch?v=97XF8ucPQVY
Given the popular image of him, it's perhaps surprising to see Chaplin in a film with no mustache and white hair, but that was the case for this 1957 film, his last leading role, which also featured his son Michael Chaplin. It took many years before American audiences got to see it, however, as its satire of the very McCarthy-ism that had seen him exiled to Europe earned it a ban in the country that had once loved him so. It remained unreleased in the U.S. until 1973, four years before his death.
Watch A King in New York on Hulu.
5. Chaplin
Okay, so we're cheating a little, as this is a film about Chaplin rather than a Chaplin film per se. But if you want to get an overview of his life and works, this highly stylized biopic from director Richard Attenborough is well worth a look, despite taking the sort of dramatic liberties that such films often do. Its main draw is the absolutely astounding lead performance by Robert Downey, Jr, which earned the actor an Oscar nomination.
Watch Chaplin on Netflix.
Which is your favorite Chaplin movie?
See more:
Five 'Secretly British' Stars of the Silver Screen
Google Honors Charlie Chaplin
10 British Acting Families (Who Are Not the Redgraves)
Read More
Filed Under: