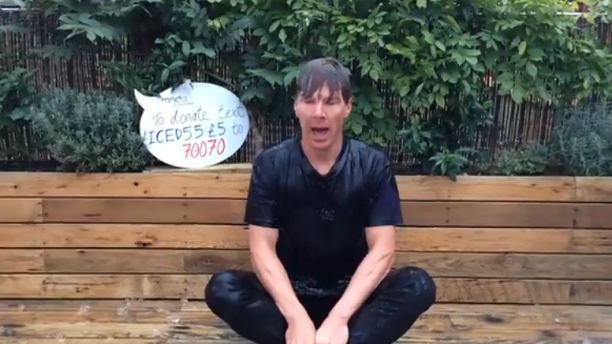 Well, we said only this morning that we were waiting impatiently for Benedict Cumberbatch to fulfil his side of the bargain after being nominated to do the Ice Bucket Challenge… and now he's delivered. Quite spectacularly.
If you've somehow missed the trend, designed to raise public awareness of ALS (also known as Lou Gehrig's Disease and Motor Neurone Disease) and funds to help fight it,  it involves celebrities and members of the public alike dousing themselves in freezing cold water before making a donation. Benedict, however, has rather raised the game with his video, which goes far beyond one simple dunking. But we don't want to spoil it, so just go ahead and watch:
Just another reason to love Benedict Cumberbatch.
This is either a pretty resounding culmination of the trend, or a significant raising of the bar that fellow celebs — perhaps including Benedict's nominees Harvey Weinstein, Kylie Minogue and racing driver Lewis Hamilton — will only work even harder to top. Given the natural inclination of British celebrities in particular to do silly things in the name of charity, we'd bet on the latter.
You can learn more about ALS, and make a donation yourself, at the ALSA website.
Who would you like to see take the challenge next?
See more:
Matt Smith does the Ice Bucket Challenge
Tom Hiddleston takes the Ice Bucket Challenge
Idris and Benedict: Khan vs. Khan
Read More
Filed Under: