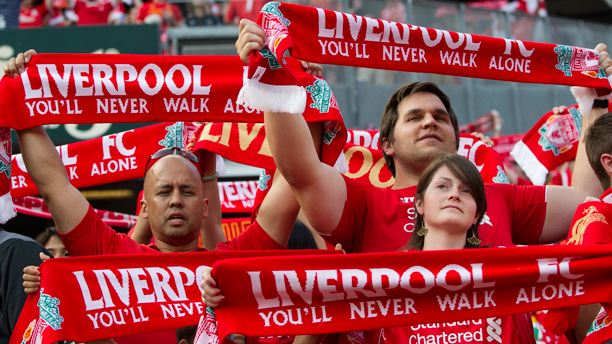 From Gooners to Hammers, here's your guide to the supporters of all 20 Premier League teams.
Arsenal
Nickname: The Gunners
Famous fans: Prince Harry, Piers Morgan, Roger Daltrey
Arsenal supporters are known as "Gooners," and you've caught them in a good mood because last season they got to celebrate winning a major trophy for the first time in a decade as Arsène Wenger's men lifted the 2014 FA Cup. However, Gooners are well known for their apparent eagerness to criticize the team. Indeed, even when legendary manager Herbert Chapman turned the club's fortunes around back in the 1930s, he noted that one section of the fans were quick to get on the team's case when they weren't playing well, leading Chapman to famously label the Highbury naysayers as "boo boys." For further reading, pick up Nick Hornby's Fever Pitch, the bible on being an Arsenal fan.
Aston Villa
Nickname: The Villans
Famous fans: Prince William, Ozzy Osbourne, Tom Hanks
These days, it seems not a full-time whistle blows at Villa Park without a chorus of boos echoing around the stadium. The justified reason being Villa's underwhelming performances over the past three seasons, all of which have seen them finish uncomfortably close to the relegation zone. The fans' criticism has become so rampant of late that the club felt it necessary to issue a 20-point code of conduct forbidding any supporter from criticizing anyone associated with the club "in any public forum," including personal social media pages. You can probably imagine the backlash. But you have to hand it to Villa fans, they're a loyal bunch of Brummies and haven't let the average attendance slip under 35,000 during the last two seasons. So, to summarize, they are angry, and there are a lot of them.
Burnley
Nickname: The Clarets
Famous fans: Prince Charles, Alastair Campbell, John Kettley
If rooting for the underdog is your thing, Burnley is the team for you. The last time this small Lancashire club reached the dizzy heights of the Premier League in 2009, it ended in relegation, and most fans will tell you that expectations aren't much higher this time around. They're just happy to be here, rubbing shoulders with the likes of Arsenal and Liverpool rather than Rotherham and Brentford. They're a noisy and boisterous crew, as the lads from The Inbetweeners discovered during their summer vacation.
Chelsea
Nickname: The Blues, The Pensioners
Famous fans: Sir Michael Caine, Will Ferrell, Suggs
During the height of the hooligan epidemic during the 1970s and 1980s, Chelsea had one of the most notorious "firms" in the country. So feared were the Chelsea Headhunters that even the club's own chairman, Ken Bates, proposed erecting an electric fence in the stadium to keep the ruffians at bay. Unsurprisingly, the motion didn't pass (Greater London Council basically went, "That's insane, Kenneth!"). These days, things are a lot calmer down by the Bridge, the Chelsea faithful having been pacified by success and a heavy CCTV presence.
Crystal Palace
Nickname: The Eagles
Famous fans: Eddie Izzard, Rebecca Lowe, Ronnie Corbett
It's a good time to be a Crystal Palace fan. For the first time in the club's history, they will play a second successive season in the Premier League. This is mainly thanks to coach Tony Pulis, who did such an exceptional job guiding Palace from the drop zone to an 11th-place finish last year that he was voted Manager of the Season. Palace supporters have a reputation for being loud. Very loud. And BBC pundit Robbie Savage reckons they're "the best fans in the Premier League."
Everton
Nickname: The Toffees
Famous fans: Sylvester Stallone, Sir Paul McCartney, Dame Judi Dench
Your archetypal Evertonian is a friendly, proud, passionate Scouser who wears his heart on his sleeve. He's the guy everybody likes because although he's had nothing to cheer about for years, his spirits remain remarkably high. Also, how cool is it having Rocky, a Beatle and M as fans? Or, alternatively, Rambo, a Wing and Queen Victoria. Or, if you will, Sly, Macca and Juzza.
Hull City
Nickname: The Tigers
Famous fans: Omar Sharif, Sinitta, Tom Courtenay
Despite having a chairman who actually doesn't care whether they live or die, Hull City fans have had a pretty good time of it lately. Let me explain. Last season, Hull owner Dr. Assem Allam announced he was changing the club's name to "Hull Tigers." The fans protested peacefully, holding banners aloft during games saying "City Till I Die." The doctor labeled these fans "hooligans," and endearingly added, "They can die as soon as they want." As it happened, the acrimonious debate was inconsequential because the FA Council pooh-poohed the name change anyway. While all this was going on, Hull reached its first ever FA Cup Final and achieved its highest ever finish in the football pyramid.
Leicester City
Nickname: The Foxes
Famous fans: Engelbert Humperdinck, Gary Lineker, Sam Bailey
Leicester City fans are an emotional crowd. The reason being that their team is what's known in the footballing world as a "yo-yo club," the child's toy a metaphor for sides that regularly experience the heartbreak of relegation and the elation of promotion. This current return to the top flight marks the end of a decade-long exile, and fans of the Foxes will be hoping their team can stay up longer than just the solitary season they managed last time.
Liverpool
Nickname: The Reds
Famous fans: Samuel L. Jackson, Kim Cattrall, Daniel Craig
As Liverpool creep up on a quarter-century without winning the title, so their fans' sense of entitlement grows disproportionately. The "Kopites," as they're known, have basically been pissed since 2011 when Manchester United overtook their record of 18 league titles, yet still they consider themselves the greatest. But if it's spine-tingling, hairs-standing-on-end, raw emotion you want, look no further than when Anfield stands as one, flags raised, and belts out the Gerry and the Pacemakers' classic "You'll Never Walk Alone."
Manchester City
Nickname: The Citizens
Famous fans: Noel Gallagher, L.S. Lowry, Ricky Hatton
There are two common traits to be found in every Manchester City fan: enduring resolve and a black sense of humor. Throughout City's tumultuous history, its ardent supporters have laughed in the face of adversity, rejoiced in the farcical, and shed enough tears (of both joy and despair) to fill a thousand Olympic-size swimming pools. The phrase "typical City" has become a colloquialism amongst fans, acknowledging the team's consistent knack of doing things in an unconventional manner. Examples include being the first and only team to score and concede 100 league goals in one season (1957-58); the only reigning Football League champions to be relegated the following season despite having scored more goals than any other team in the division (1937-38); and leaving it until the 94th minute of the final game of the season to win their first title for 42 years (2011-12).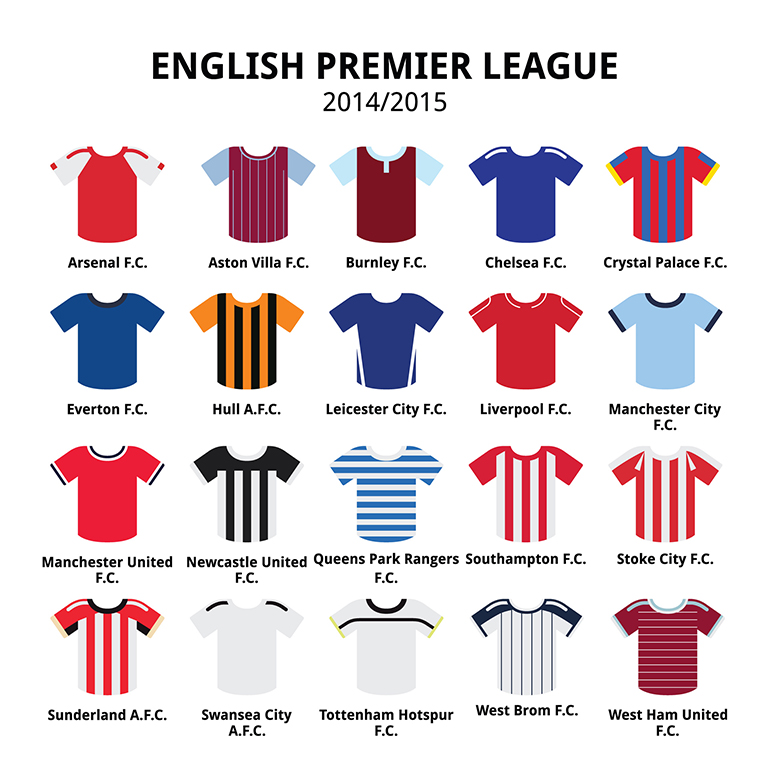 Manchester United
Nickname: The Red Devils
Famous fans: Usain Bolt, Mick Hucknall, Justin Timberlake
It is perhaps the biggest cliché in the book of awfully big football clichés that Manchester United supporters don't come from Manchester. Such fans are known as plastics and only "follow" Manchester United because they're successful. But of course there are a few Manchester United supporters in Manchester, it's just they've been elbowed out of the way by wealthy Londoners (plastics who former club captain Roy Keane labeled "The prawn sandwich brigade"). If you don't support United, you vehemently despise them, which is why rival supporters basked so glowingly in the disaster of last season.
Newcastle United
Nickname: The Magpies
Famous fans: Ant & Dec, Sting, Cheryl Cole
Newcastle United fans are known collectively as the "Toon Army" and have a reputation for being the most loyal, passionate supporters in the country. A 2004 study showed that Newcastle fans had the furthest to travel over a season if they were attending all the club's away games, clocking up a whopping 8,482 miles (that's the equivalent to one-third of the way around the Earth). Even when the club spent a season in the Championship (the second tier of English football) in the 2009-10 season, the average attendance was 43,387, which was the fourth highest for an English club that year. But as a breed they are discontent, perpetually disgruntled with owners and managers, having had nothing of note to celebrate since the 1969 Inter-Cities Fairs Cup.
Queens Park Rangers
Nickname: The Hoops
Famous fans: Pete Doherty, Bill Bailey, Santiago Cabrera
In 2007, Queens Park Rangers were on the brink of liquidation and then a consortium of billionaires all chipped in to save the club. The new owners implemented a four-year plan to get QPR back into the Premier League. The plan worked. But since 2007, it's been a roller coaster ride of 13 managers, one relegation and two promotions. Nothing can surprise fans of this London club anymore.
Southampton
Nickname: The Saints
Famous fans: Craig David, Will Champion, Lucy Pinder
Currently, all Southampton fans are sitting at home crying. Why? Virtually their entire team (and manager) left during the summer. They've enjoyed good times of late, but the recent "Everything Must Go!" sale has left the fans pessimistic to the point of desperation. One supporter recently took matters into his own hands when he happened upon Arsenal coach Arsène Wenger on a beach in Brazil during the World Cup, pleading—no, begging—the Frenchman not to buy midfielder Morgan Schneiderlin. Wenger's response was less than reassuring.
Stoke City
Nickname: The Potters
Famous fans: Dominic Cork, Sybil Ruscoe, Sugar Ray Leonard
Ah Mr. Stoke City Fan, your reputation precedes you. As recently as the early 2000s, Stoke City suffered from severe problems with football hooliganism. During the '80s and '90s, the infamous Naughty Forty firm were among the most violent and feared in the country, and at their height had over 700 members. They even had a group for younger hooligans called the Under-Fives. How adorable? They've calmed down now though, so don't be afraid should you ever find yourself in the (admittedly unlikely) situation of being in Stoke-on-Trent.
Sunderland
Nickname: The Black Cats
Famous fans: Peter O'Toole, George Clarke, Sir Timothy Rice
Like their Tyne and Wear neighbors in Newcastle, Sunderland fans, or "Mackems" as they're known colloquially, have a reputation for being passionate, loud, and how can I put this… enjoying liquid refreshment. The club has a rich history, having won the championship six times, which is two more than both Manchester City and Chelsea have managed. Unfortunately, however, the last time they did this was way back in 1936 and supporting Sunderland these days means enduring annual relegation concerns. The club slogan is "Ha'way The Lads" which roughly translates as, "I Say, Come On Old Chaps!"
Swansea City
Nickname: The Swans
Famous fans: Catherine Zeta-Jones, Ruth Madoc
Swansea City fans are a proud people; particularly now they're the only Welsh representatives in the Premier League following Cardiff City's relegation last season. In 2013, the Swansea faithful got to celebrate their team winning its first major trophy in English football—the League Cup—and they've been on a high ever since. Three managerial changes in four years has meant rolling with the punches, but any Swansea fan will tell you that their current situation feels like a dream compared to where they were just over a decade ago. On the final day of the 2002-03 season, Swansea narrowly avoided relegation to the Conference (the fifth tier of English football). As the old football cliché goes, it's a funny old game.
Tottenham Hotspur
Nickname: Spurs, The Lilywhites
Famous fans: Adele, Jason Biggs, Salman Rushdie
This North London club is the archrival to the team just down the road, Arsenal, and any player brave (or stupid) enough to cross the divide is deemed to be committing the cardinal sin. The most recent player to perpetrate such treachery was defender Sol Campbell in 2001. Campbell has since become a pantomime villain at White Hart Lane, his place cemented in Tottenham folklore as the Judas who joined the sworn enemy. Well over a decade since Campbell's departure, the anger continues to linger and is regularly voiced in the terraces.
West Bromwich Albion
Nickname: The Baggies
Famous fans: Frank Skinner, Ronnie Wood, Goran Ivanišević
In 2002, the BBC held a national intelligence test via a show called Test the Nation. Almost 100,000 Brits took part and one of the conclusions drawn was that fans of West Bromwich Albion were more likely to be smarter than any other football supporters. Baggies fans registered an impressive average IQ of 138 (Burnley were the least intelligent with a score of 76, in case you were wondering). And, proving that fancy dress is for clever people, WBA fans have celebrated the final away game of every season since the early 1990s by dressing up in a chosen theme. Two themes were chosen for last season's game at Norwich, "Romelu Lukaku tribute," and "beach party," which roughly translated to Belgian flags and Bermuda shorts. So, in conclusion, WBA fans are smarty pants with a penchant for fancy dress.
West Ham United
Nickname: The Hammers
Famous fans: Russell Brand, Keira Knightley, Alfred Hitchcock
A word of advice: don't mess with a Hammer. I have a friend who made the mistake of doing this once, and two black eyes later he was consumed with regret. So it may not surprise you to learn that West Ham fans have a history of hooliganism. Their branch, the Inner City Firm, was one of the most feared in the country and gave rise to the first soccer "casuals," so called because they avoided police suspicion by not wearing football-related clothing. The club anthem is "I'm Forever Blowing Bubbles," a 1919 Broadway song that found its way to Britain and became a hit in music halls in the early 1920s. The West Ham faithful adopted it as their signature tune, and they've been blowing bubbles ever since.
See more:
10 Things You Should Know About the English Premier League
2014-15 Premier League Preview: A Team-By-Team Analysis
Supersizing Soccer: What Britain's Premier League Could Learn From U.S. Sports Culture
Read More
Filed Under: