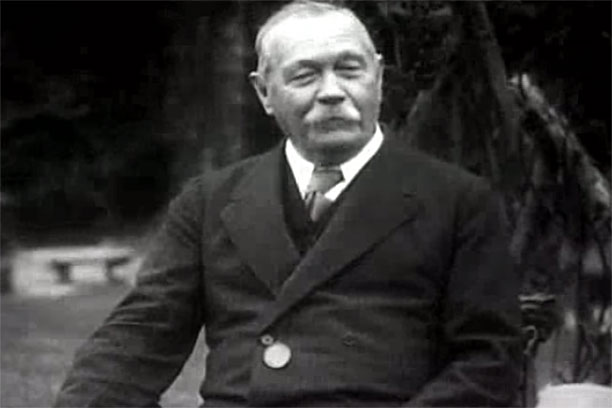 As it was Book Lovers Day on August 9 and because it's always exciting to unearth an unimaginable clip on YouTube, here's a selection in which the voices of venerable writers, taken from the some of the earliest days of broadcasting, are preserved.
Let's start fittingly, with the most startling of discoveries. Bless my braces if it isn't Sir Arthur Conan Doyle, speaking in 1930.
Aldous Huxley
Picking up the spiritual baton as handed on from Sir Arthur, the Brave New World author is described in the interview preamble as possessed of an omnivorous intellect, which is something you don't get a lot of in TV interviews these days.
Virginia Woolf
A particularly sad irony of 20th Century cultural life is that there is no known footage—audio or video—of George Orwell's speaking voice, despite working for the BBC on broadcasts to India for two years during the war. Whereas Virginia Woolf—whose voice it would have perhaps have been safer to assume was lost forever—survives in this BBC radio talk called "Craftsmanship," from 1937.
H.G. Wells
H.G. Wells meets Orson Welles! Well well! And a poor radio announcer has to sort out which is which in his introduction, knowing full well that you can't hear variations in spelling when you speak. Thankfully, those accents make it clear which is which.
Rudyard Kipling
Another astonishing bolt from the blue, here's the venerable old man of letters, writer of The Jungle Book and the Just-So Stories, giving a speech on the art of writing to an audience of his peers.
See more:
PHOTOS: The Sidewalk 'Sherlock Holmes' Quotes of Plymouth
Lost Harold Pinter Sketch Found After 50-Year 'Pause'
10 Great Things About the London Underground
Five Great British Things The Americans Improved
Read More
Filed Under: