When Peter Capaldi was first announced as the Twelfth Doctor, one of the loveliest facts that quickly emerged was that he was himself a long-time Doctor Who fan, and that despite his long and distinguished career in acting, playing the Doctor was the one job he prized above all others. It's the kind of "hard work done good" story that can't fail to warm the cockles.
But Capaldi isn't the only Whovian who managed to get themselves a job on the show, whether in front of the camera or behind it. Here's a a chronological look at ten notable names who saw their level of Who fandom pay off when it came to making their dreams come true:
Douglas Adams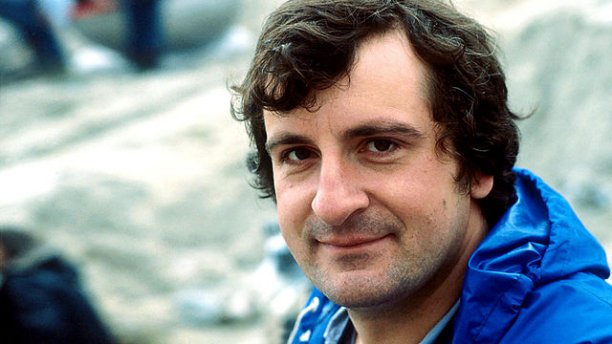 The legendary Hitchhiker's Guide to the Galaxy author had been a Doctor Who fan throughout the 1970s, and submitted scripts to the production office while he was establishing his radio comedy writing career. In 1978, Adams sent Doctor Who producers the pilot script for the first episode of Hitchhiker's before it had even been broadcast, and he was rewarded with a commission to write "The Pirate Planet." A year later, and following the Guide's success, he became Doctor Who's script editor, and also co-wrote the classic "City of Death."
Andrew Smith
The story to which many budding Doctor Who fan writers still look for inspiration. Smith wasn't even a professional writer when he got to pen a televised Doctor Who story: in fact, he was just a 17-year-old fan who had been hopefully sending in scripts. Although "Full Circle" made him the youngest writer ever to work on the show, it was also his only script, and he left writing to become a policeman. Later in the 1980s, the production was again open to submitted scripts from fans, a policy which earned Marc Platt the chance to write "Ghost Light."
Russell T Davies
While establishing himself as one of British television's foremost drama writers in the 1990s, Davies never shied away from including references to his beloved Doctor Who in his work—most notably in Queer as Folk. It was still something of a surprise, however, when he was announced as the showrunner of a new Who series by the BBC in late 2003. In fact, Davies had been knocking on the BBC's door for several years in an attempt to get the job, and his persistence finally paid off when, under his stewardship, the show became one of the biggest things on television once more.
Steven Moffat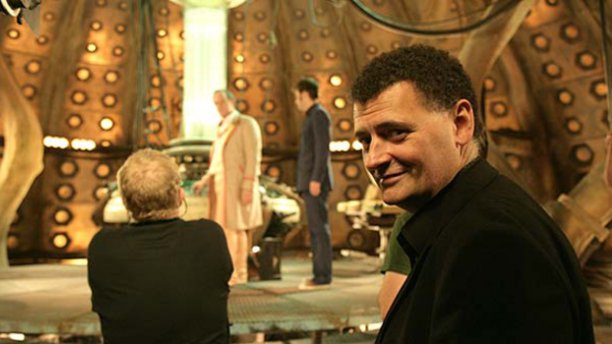 Of course, Russell wasn't the only writer who'd been stealthily dropping Who references into his work in the 1990s. The fact that so much of sitcom writer Steven Moffat's work was semi-autobiographical meant that a Whovian character was never far away, with the most obvious references appearing in his hit show Coupling. Moffat had even scripted the Curse of Fatal Death spoof, starring Rowan Atkinson, for Comic Relief in 1999, but could never have dreamed that he'd one day get the top job on the show proper. His scripts for the Davies-produced era, however, marked him out immediately as the natural successor. He even got to write the charity special "Time Crash," which essentially served as a tribute to his favorite classic Doctor.
Mark Gatiss
In November 1999, the BBC ran a special Doctor Who theme night, including several comedy sketches written by and starring Mark Gatiss, then best-known as one of the comedy group The League of Gentlemen. Gatiss cast himself as the Doctor in one of the sketches (as well as a crazed fan who kidnapped Peter Davison in another), but years later would find himself in the unique position of getting to both write and appear in the show on several occasions. As well as contributing seven episode scripts and playing three guest characters, he also wrote the acclaimed anniversary docudrama An Adventure in Space and Time.
David Tennant
Gatiss may be able to refer to himself as Doctor Who's most versatile fan-turned-professional, but in most people's eyes, he has some way to go before matching David Tennant in the fan-hero stakes. Tennant has said that when he was a small child, he told his parents he wanted to be an actor in part because of watching Doctor Who; and after becoming a professional, he even persuaded his way into a cameo role in an audio drama production that happened to be going on in the same building in 2003. When he was finally given the job by fellow superfan Davies, his enthusiasm for the role shone through in every performance he gave, and the Tenth Doctor's teary last words clearly meant as much to the actor as to the character.
Plus, of course, by marrying one-time co-star Georgia Moffett, becoming Peter Davison's son-in-law in the process, he's formed Doctor Who's most powerful super-family.
Kylie Minogue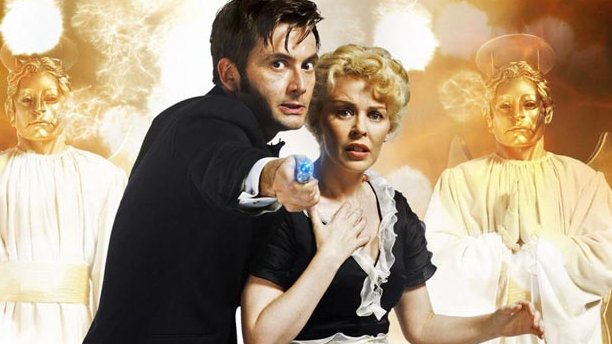 Okay, so the pop superstar may not have been a die-hard childhood Who fan, but she was made aware of the show by her creative director Will Baker (who was probably also responsible for a famous photo of the singer sitting with a copy of an Eighth Doctor novel), and after using Cybermen imagery in her 2007 live shows, her interest levels were high enough that she let it be known that she might like to appear. This was jumped upon by the producers (with Russell Davies expressing repeated disbelief that she could possibly want to be involved), who promptly cast her in the 2007 Christmas special "Voyage of the Damned."
Neil Gaiman
The biggest hint that the bestselling author was a longtime Doctor Who fan probably came in his novel and TV series Neverwhere, in which he created a character called the Marquis de Carabas, whom he even admitted that he "wrote as if [he] were creating a Doctor from scratch." A fan since childhood, Gaiman blogged regularly about watching the revived series with his young daughter, and at one point had even turned down the opportunity to write a tie-in novel in the hope that he would instead eventually get to write for the series. The fact that he then did, and has in fact managed to fit two episodes into his incredibly busy schedule, is something for which we're all hugely thankful.
Frank Skinner
The British comedian and actor has talked about being a hardcore Doctor Who fan for many years on his own radio and television shows, so it's perhaps a surprise that it's taken him so long to get a role. "I love this show," he said after being cast in one of writer Jamie Mathieson's upcoming Season 8 episodes. "I subscribe to Doctor Who Magazine, I've got a TARDIS ringtone, a five-foot cardboard Dalek in my bedroom. When I got the call saying they wanted me to read for the part, I was in the back of my tour bus watching episode three of The Sensorites."
It was a relief to Steven Moffat, too, who added, "It's no secret that Frank's been pitching vigorously to get into Doctor Who for a while. He's been volunteering to be 'third monster on the left' as long as I've been in this job. Hopefully he'll get out of my garden now!"
Peter Capaldi
But if Skinner thought he was the most obsessive repeated campaigner for a role in Who, he was wrong. The title of Greatest Superfan of All must surely go to the incoming Twelfth Doctor, as Peter Capaldi has been watching the show since the very beginning—and writing fan letters about it for almost as long. As a teenager in the 1970s, he gained a reputation for repeatedly badgering the production office asking about running an Official Fan Club (to the chagrin of the group of youngsters who were already running one), and he also had a letter published in the Radio Times aged 15, praising the magazine for their anniversary coverage and reflecting on the sad death of Roger Delgado.
He also drew fan art and wrote fanzine articles, and in a 2008 interview admitted that the response he got from the Doctor Who production office to his letters was the main reason he became interested in working in television. After having already appeared in both a Who guest role and Torchwood, it might have seemed like his chance to get the top job had passed—but his dream came true last year, and on his live unveiling he told viewers that "I haven't played Doctor Who since I was nine in the playground."
Recalling his first days on set as the new Doctor, Capaldi recently told The Guardian, "I had to be very patient, because there were always very nice prop guys telling me how to work the TARDIS, and I was like: 'I know how to work the TARDIS! I've known for a very long time how to work the TARDIS. Probably longer than you. So you don't need to tell me!'"
Who's your favorite fan-turned-professional?
See more:
Peter Capaldi: 12 Months as the Twelfth Doctor
British Comedian Frank Skinner Confirmed as 'Doctor Who's Latest Guest
Happy Birthday, David Tennant! 10 Great Tenth Doctor Moments
Read More
Filed Under: