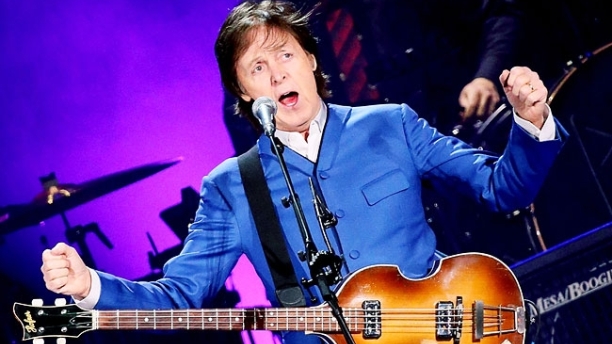 Having only just resumed his "Out There" world tour in Albany, New York following a two-month absence due to illness, you'd think Sir Paul McCartney might settle for a quiet time of it. Instead, however, the legendary former Beatle kicked off a busy week by helping two fans with a unique proposal — live on stage.
On Saturday night (July 5), Sir Paul noticed two signs being held aloft in the crowd: one reading "He won't marry me 'til he meets you!" and the other "I have the ring, and I'm 64!" McCartney swiftly called the couple up onstage, giving John Dann the chance to propose to his girlfriend Claudia Rodgers in front of the entire arena — and even joined in with a special rendition of "When I'm Sixty-Four". Check out the video below:
https://www.youtube.com/watch?v=gcaA2c-Kytw
The heartwarming tale arrives in the same week that McCartney released his latest video, featuring none other than Johnny Depp in a guest appearance. "Early Days" is a track from last year's smash hit album New, which Sir Paul describes as "a memory song for me, about me and John [Lennon] in the early days." For the video, however, he explained to Rolling Stone that director Vincent Haycock suggested "instead of having young lookalikes of me and John walking the streets of Liverpool, guitars slung over our backs, and literally acting out the song, what if it was any two aspiring musicians? I thought that was such a cool idea." Depp, appearing in a McCartney video for the third time, shows up briefly in a jam session with Paul and several blues musicians:
It's also been a good week for fans of Beatles archive material. The classic film A Hard Day's Night has celebrated its fiftieth anniversary with a theatrical re-release in both the U.K. and U.S., while Universal and Apple yesterday gave the British press their first listen of the new mono vinyl remasters of the band's back catalogue, due for release in September.
See more:
WATCH: Paul And Ringo Reunited At The Grammys
10 Very British References in Beatles Songs
Personality Quiz: Which Beatle Are You?
Read More
Filed Under: