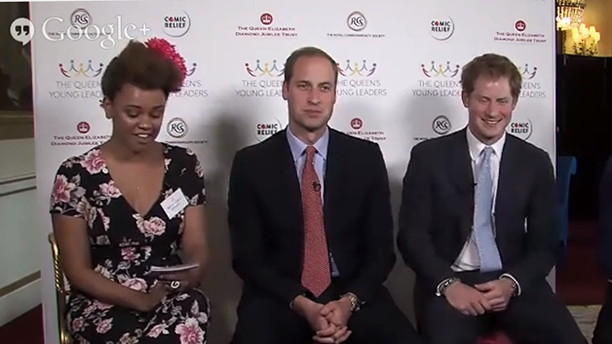 First the British Monarchy gets a Twitter handle and now the Princes are hosting live chats from Buckingham Palace.
Prince William, the Duke of Cambridge, and brother Harry, Prince of Wales, participated in a Google Hangout with five young leaders from the U.K., India, Jamaica, South Africa and Australia, reports The Telegraph.
The sit down was approximately 12 minutes, hosted by U.K. radio disc jockey Gemma Cairney. The chat kicks off a new initiative, The Queen's Young Leaders, an awards program set up by the Queen Elizabeth Diamond Jubilee Trust in collaboration with Comic Relief and the Royal Commonwealth Society.
The Google Hangout Q&A was initially live, but you can watch the recording below:
The Queen's Young Leaders program seeks out exceptional youths and will award 240 people (60 people per year, for four years) aged 18 to 29 from all 53 Commonwealth countries.
The Princes launched the search for nominees using the hashtag #TheSearchIsOn via Twitter. Buckingham Palace now has a Twitter Mirror, which instantaneously posts selfies. See how it works below:
What a fantastic launch of @QueensLeaders with @TwitterMirror and the first Royal Google+ Hangout! #TheSearchIsOn pic.twitter.com/IYVLMzyoqN

— BritishMonarchy (@BritishMonarchy) July 9, 2014
You can apply or nominate someone via The Queen's Young Leaders official website here.
Those selected will receive awards for leading the way where they live, in honor of Her Majesty The Queen's 60-year contribution to the Commonwealth. The award is intended to support the young leaders to do more life-changing work.
In addition to individual awards, grants will be made to organizations in selected Commonwealth countries that can show they are improving the lives of young people.
Sir John Major, chairman of the Trust, explains the breadth of the program: "This program will celebrate the achievements of these extraordinary individuals and help develop their skills, thus creating a lasting legacy to honor the long and successful reign of Queen Elizabeth II."
What did you think of the live chat?
See More:
WATCH: Prince William Has Formed A Supergroup
PHOTOS: Buckingham Palace Hosts Soccer (Football) Match
Memorize the Last 1000 Years of Monarchs with a Song
Read More
Filed Under: