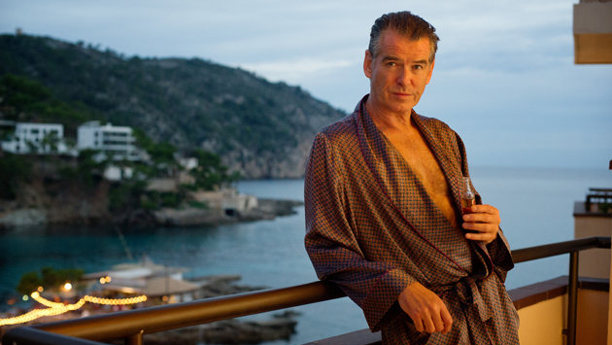 In A Long Way Down, Pierce Brosnan has taken on a very timely role in playing a British TV personality who has fallen from grace. In the U.K., stories of sex offenses involving TV figures who are household names have been headline news. Brosnan plays a TV presenter whose career has been left in tatters after having had sex with an underage girl.
He is one of four characters who happen to meet on the top of a tall London building on New Year's Eve, all with the intent to kill themselves because life for each has become unbearable. Brosnan is joined by a cast that includes Toni Collette, Aaron Paul and Imogen Poots. The film is based on a 2005 book of he same name from author Nick Hornby.
But in Britain, when the film opened earlier this year, it got some harsh reviews, which Brosnan believes could be due to British cultural possessiveness. "It might be because we have a French director, Pascal Chaumeil, dealing in the world of Nick Hornby and the British are very possessive of their Nick Hornby," he says.
One of the big challenges facing the filmmakers is that they were trying to create a comedy involving suicide—not an easy assignment.
One of the film's redeeming features is the very strong performance from Toni Collette. She's an actress who rarely disappoints irrespective of the quality of the films in which she might be appearing.
See more:
First Look: Bill Granger's 'November Man' Starring Pierce Brosnan
50 Years of James Bond: Pierce Brosnan Took 007 into 21st Century
Read More
Filed Under: