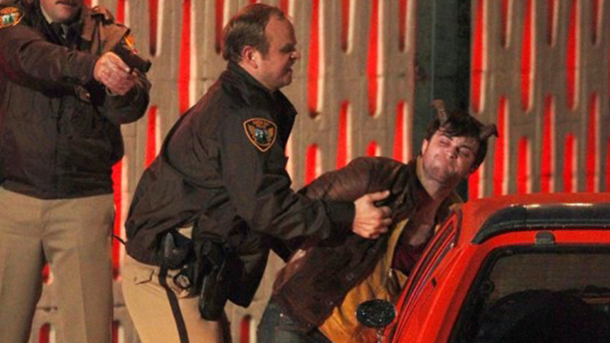 To wake up with an unexplained bruise after a late night out is one thing, a "war wound" one might say, but horns protruding from your temples is a whole other story.
A short teaser trailer for Horns starring Daniel Radcliffe came out two weeks ago, with a longer length trailer just released over the weekend at Comic Con: San Diego.
Not to repeat ourselves, but here's the gist of Horns: Daniel Radcliffe stars as a typical young guy, enjoying a typical night out with his girlfriend (Juno Temple), but wakes up to realize she's been assaulted and murdered. Since he was the last one seen with her, people blame him. He exclaims in the trailer, "If I did anything to her, then I'm a monster," but the next thing he knows, he's grown horns.
Is this one of those cases of self-fulfilled prophecies? Be careful what you say.
Here's the longer trailer with new bits and bobs:
Based on the bestselling novel by Joe Hill (that's his pen name, his surname is King, like Stephen King, his father), the film utilizes the suspension of disbelief: people see him with horns and just kind of go with it rather than wasting a ton of screen time trying to figure out how they came to be.
Radcliffe's character goes to the doctor seeking advice and the doctor suggests, "You know how I think we should proceed? I should grind up some Oxycotin and have me a little snort."
That is one route, and better than people strapping Radcliffe down to an examination table.
This is a wicked tale no fairy would survive.
The film hits U.S. theaters on October 31. Other Brits making an appearance include Joe Anderson (Across the Universe, The 27 Club) and Max Minghella (The Internship).
Are you enjoying Daniel Radcliffe's choices in roles post-Harry Potter?
See More:
WATCH: Daniel Radcliffe Looking Devilish in 'Horns' Trailer
Daniel Radcliffe Spotted Walking 12 Dogs in NYC
First Look: Daniel Radcliffe in Romantic Comedy 'What If'
Read More
Filed Under: