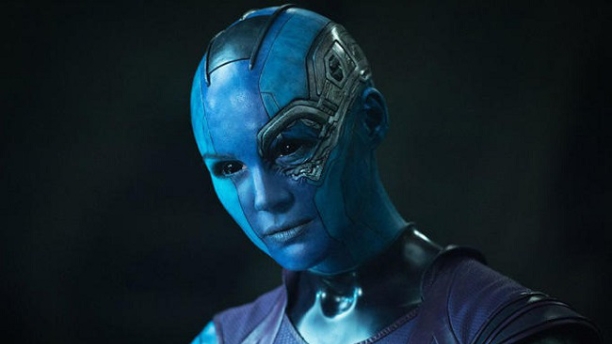 We're edging ever closer to the August 1 release date of Guardians of the Galaxy, the upcoming Marvel Comics blockbuster film that co-stars Karen Gillan in a major and somewhat villainous role, and that means it's time for one last extended trailer to give even more of a sense of what the film's all about.
The new trailer offers a couple of fresh, fleeting glimpses of Karen in her blue-skinned, shaven-headed role as Nebula, the severely dangerous mercenary who is teamed up with lead villain Ronan the Accuser – and also has a personal connection to one of the Guardians. Check out the new trailer below:
Guardians of the Galaxy also stars Chris Pratt, Zoe Saldana, Dave Bautista, Glenn Close, John C. Reilly and the voices of Bradley Cooper and Vin Diesel. While it isn't Karen's first foray into Hollywood, its big budget nature and the hugely positive buzz around it means it does seem to be the film that's most likely to catapult her to further post-Doctor Who stardom.
See more:
Karen Gillan Explains Why Brits Do U.S. Accents Better
Karen Gillan Goes Back to the West for 'In A Valley Of Violence'
LIKE, WATCH: OMG it's Karen Gillan? In the 'Selfie' Trailer? #Wow
Read More
Filed Under: