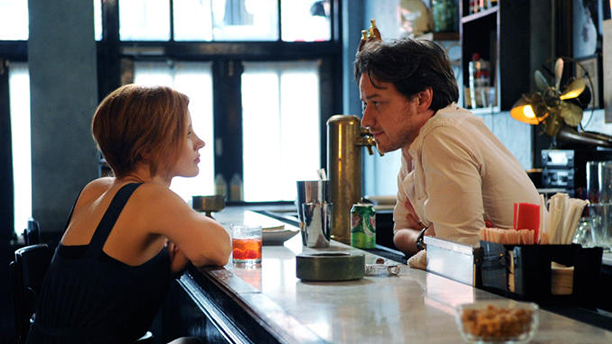 Speaking of kissing, there is a whole lot of snogging going on in the trailer for Ned Benson's film The Disappearance of Eleanor Rigby, starring James McAvoy (X-Men: Days of Future Past) and Jesssica Chastain (The Help).
Interestingly enough, the film started off in two separate parts, Him and Her, both screened at the 2013 Toronto International Film Festival, reports IndieWire. The two films have been combined into a feature-length film titled Them.
The lead characters, Eleanor (Chastain) and Conor (McAvoy), are a married couple going through hard times. The audience witnesses their early days from both sides, his and hers. The trailer is all lovey-dovey until Eleanor, as the title predicts, disappears. There's no sense of urgency or foul play because Conor suspects she went missing on her own, and she doesn't want to be found.
If you want to see McAvoy whispering sweet nothings, soaking wet from rain and rolling around in the grass making out, then click on the below trailer:
The two films, Him and Her, were screened back-to-back at TIFF running over three hours. The combined film has been edited down to 122 minutes.
Eleanor Rigby also stars Ciarán Hinds, William Hurt and Viola Davis.
The film hits U.S. theaters on September 26, 2014.
What did you think of Professor X getting all romantical?
See More:
WATCH: Sirs Patrick Stewart and Ian McKellen Trade Impersonations with McAvoy and Fassbender
WATCH: 'Filth' Trailer Starring James McAvoy
James McAvoy Exuberantly Wallows in 'Filth', Discusses Role in Scottish TV Interview
Read More
Filed Under: