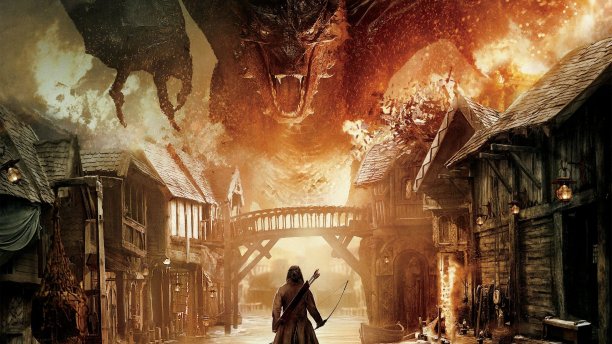 We won't know until Peter Jackson confirms whether or not he's going to adapt The Silmarillion if the director's fourteen-year, six-movie association with the works of J.R.R. Tolkien is finally coming to an end — but as the December release of The Hobbit: The Battle of the Five Armies approaches, it's certainly starting to feel like the end of an era. And that endgame gets underway here, with the release of the first teaser trailer for the third and final film:
Although billed as just a "teaser", it's a pretty weighty two-minute-long clip, which shows that if this is to be the final entry in the Middle Earth film series, it's certainly going out on an epic note. There's only the briefest of glimpses of Benedict Cumberbatch's motion-captured dragon Smaug, who will likely play a somewhat smaller role than last time around, but as is customary we also get looks at Martin Freeman as Bilbo, Sir Ian McKellen as Gandalf, and Richard Armitage as Thorin.
Tying up the Hobbit story, the film will also feature appearances from the likes of Orlando Bloom, Ian Holm, Sir Christopher Lee, and a return for Seventh Doctor Sylvester McCoy (despite his apparent departure from the set, as seen in The Five(ish) Doctors Reboot!) as Radagast.
The Battle of the Five Armies is released on December 17. It's going to be a big one.
What did you think of the trailer?
See more:
'The Hobbit' Cast at SDCC
6 Ways for Benedict Cumberbatch to Celebrate His 38th Birthday
Peter Jackson Directing 'Doctor Who' "Will Probably Happen"
Read More
Filed Under: