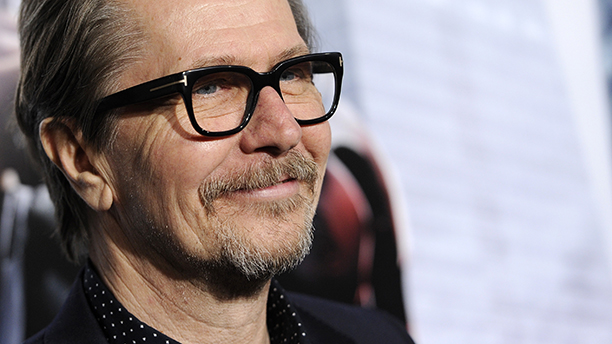 Gary Oldman (The Dark Knight Rises, Tinker Tailor Soldier Spy) swung by Conan O'Brien's late-night show Conan, and how was he welcomed: with a montage of some of his best on-screen death scenes.
According to the clip, Oldman is credited with being one of the top ten actors of all time with the most death scenes, 17 total.
While it may seem a bit morbid, Oldman takes the viewing in stride, and even cackles at some of the images. All 17 deaths weren't included, but there were enough to get the point across.
We have the pleasure, or displeasure depending on your perspective, of watching Oldman watch himself creatively croak below:
The lovely music accompanying the montage makes it a little less traumatic to watch.
O'Brien's friend and sidekick Andy Richter points out, "In your In Memoriam at the Oscars, you won't get to see it. But, you got to see that."
That's one way to look at it.
What do you think of Conan O'Brien's tribute?
See More:
Five Appalling Gary Oldman Oscar Snubs
WATCH: Gary Oldman Raps Pitbull's 'Timber'
Is Gary Oldman Going To Be In The New 'Star Wars' Movie?
Read More
Filed Under: