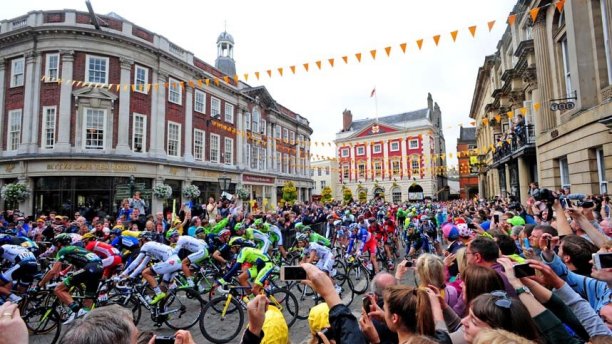 Cycling fever has swept the U.K. over the last three days, as the legendary Tour de France race staged its "Grand Départ" in the north of England before heading south on its way to its homeland.
Despite the name, le Tour has made regular visits to neighboring countries over the last fifty years, and it has become customary for the opening stages to take place abroad before the racers return to France. The race last visited London in 2007, but this year is the first time it has taken place further north — and residents of Yorkshire, the north-eastern county hosting this year's start, have responded with unprecedented enthusiasm.
Over two million spectators lined the streets of city and countryside alike over Saturday and Sunday, as the race passed first from the city of Leeds to the spa town of Harrogate, and then from historic York to South Yorkshire's largest city, Sheffield. Preparations for the race in Leeds included statues and other landmarks being adorned with customary yellow jerseys, while local tea manufacturer Yorkshire Tea got in on the act by handing out free boxes of "Yorkshire Thé" to visitors arriving at the train station.
With Yorkshire having played its part in perhaps the U.K.'s biggest weekend of sport since the 2012 Olympics — eyes were also on the nation for the men's singles final at Wimbledon and the Formula 1 British Grand Prix on Sunday — the Tour moves southwards today (July 7) for a stage that starts in Cambridge and travels through the county of Essex before arriving in London and finishing in front of Buckingham Palace along The Mall.
The only bad news for British fans has been the injury suffered by rider Mark Cavendish in a crash at the end of the first stage, leaving Chris Froome as the only realistic hope of success in the race. The people of Yorkshire, however, are still celebrating an event that has already been described by race organiser Christian Prudhomme as having "raised the bar for all future hosts of the Tour de France".
See more:
The Queen Kicks Off 2014 Glasgow Commonwealth Games with Handwritten Note
Five Great British Sports Crazes Americans Don't Understand
Five Ways London Changed for the 2012 Olympics
Read More
Filed Under: