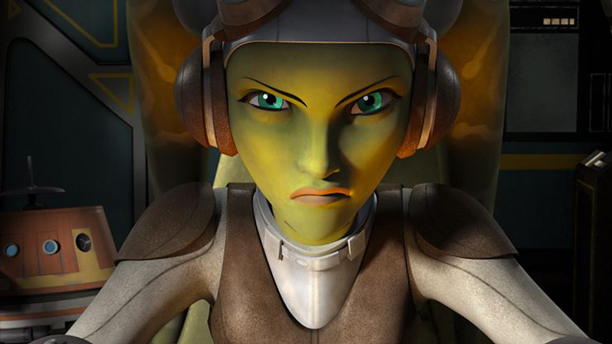 The cast and creators of the new animated series Star Wars Rebels assembled on Thursday (July 24) to show off some footage and talk a bit about the concepts behind the show. Executive producers Dave Filoni and Simon Kinberg were joined by actors Freddie Prinze Jr. (Kanan), Vanessa Marshall (Hera), Taylor Gray (Ezra), Tiya Sarcar (Sabine), and Steve Blum (Zeb). (British cast members Jason Isaacs, who voices the villainous Inquisitor, and David Oyelowo, one of the Inquistor's agents, were not present.)
But with any new Star Wars release, there are always the questions of authenticity and how closely the new material hews to the beloved mythology and concepts of the original trilogy, A New Hope, The Empire Strikes Back, and The Return of the Jedi. But fans appeared to walked away from the panel feeling not just relieved but thrilled.
Star Wars Rebels, which will premiere on Disney XD in October, takes place between Revenge of the Sith and A New Hope, when the Jedi fight who'd survived Order 66 are left in hiding and the Rebel Alliance movement begins to form. Kanan (Prinze) is a Jedi and leads the ragtag group into action.
Here are some choice quotes fron the panel.
1. Simon Kinberg on when the movies will take place.
"When we started the first question was, 'When would the show take place?' We all thought there was a chapter before New Hope was somewhat unexplored. And we all liked the tone and the essence of the original movies. And so we wanted to create a show that would have that in it and was a precursor to those films. And the first decision we made was that it would be pre-New Hope and that it would really be the origin of the Rebels. And that gave us a lot of freedom in terms of Sith and Jedi and Force abilities and trying some things that even the movies haven't done yet."
2. Star Freddie Prinze, Jr. admitting his lifelong love for Star Wars, and he has the bruises to prove it:
"I grew up on this. The scar on my chin is because I played Star Wars and the [lightsaber] hit the ground before I did and stabbed me in the face. My whole chin fell off basically [laughs]."
3. Dave Filoni on strategically using lightsaber fights in the series:
"I think if you look at where we are on the timeline in terms of A New Hope…there are pivotal lightsaber fights that are meaningful to the characters. It's not like we did in Clone Wars where every episode you see the lightsaber coming on. "
4. Simon Kinberg on capturing the original trilogy's sense of adventure and humor:
"Comedy was a huge part of the original films…and it came from characters we loved, Han especially, R2D2, and C3PO…And we started working on the show, we imagined that crew as a little family. Kanan's the father figure, Hera's the mom, Sabine's the cool older sister, Zeb's like the bully older brother, and Ezra's the newbie, the youngest sibling finding his way as part of the family. Obviously family was such a big part of the original Star Wars as well. There's so much comedy that comes from being familiar with people, and all having to share a space, whether it's a house or spaceship. We mine a lot of that on the show, and in the room, there's a mandate to make it fun and have the sort of adventure vibe from the original movies, but to also to make it from a place of character, not just to generate comedy like a sitcom, but it has to feel organic to the characters."
6. Filoni on paying homage to the late Ralph McQuarrie, who designed the original concepts for the trilogy:
"Whatever your contact point is with Star Wars, it sticks with you, and I think for those of us older fans on the group, it's really special to see these things come to life. I hadn't seen a Star Destroyer in a new shot; the first time I'd seen one in a long time was the updated Star Tours ride. And you know, we did the Ralph McQuarrie version for the new Rebels. All of our vehicles are more leaning toward the Ralph McQuarrie versions of everything, the things he was developing."
7. Simon Kinberg on creating the Rebels:
"Most of the show is Ralph's art, the tone and essence of the original movies, and something completely new and different. I have two sons, they're five and nine. For especially my five-year-old and his friends, this show will be the point of entry for Star Wars, other than bedsheets and action figures. The intention is for everyone, especially the next generation of Star Wars fans, to fall in love with this cast of characters in the same way we fell in love with Han, Leia, and Luke, and the next generation fell in love with Clone Wars. The Rebels, I believe, can and will stand beside the great Star Wars characters."
8. Dave Filoni on raising the stakes for the characters:
"The threat and the tension are real. The original films could be light-hearted and funny at moments, but you need to get to the point very quickly where you do believe the characters could die. We need to re-establish that there's a hierarchy to these villains and to the threat level of what our heroes can handle. I keep saying that the [heroes] have to earn it again. They haven't had enough missions to the dungeon to be able to level up yet."
9. Kinberg on respecting the Church of Star Wars:
"There's a religion of Star Wars that's different from any other universe, and there's a different responsibility that comes with it."
10. Filoni on Star Wars stories and the non-linear rollout
"We don't think in terms of prequels or trilogies—it's all just Star Wars and we can go anywhere with it."
See more:
'Star Wars' Day Personality Quiz: Which Non-Human Character Are You?
WATCH: The Three New British Stars Of 'Star Wars: Episode VII'
The Unfamous Five: British Actors You Never Saw In 'Star Wars'
Read More
Filed Under: