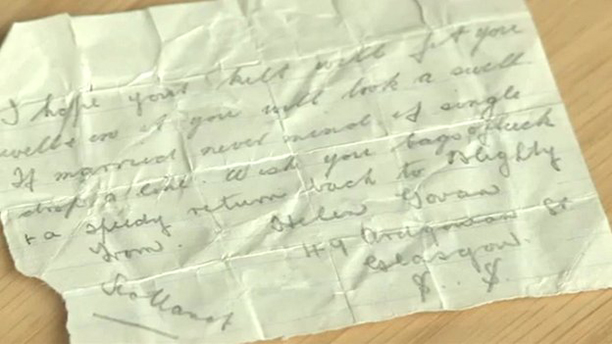 If you think dating is hard now, imagine what it was like during wartime in the early 1900s.
Of course, people had other things on their mind during WWI, but at the same time, some romance provided hope for the future.
Just recently, a love note was found sewn into a Scottish kilt made for a soldier, reports BBC News. The poem starts off with: "If married never mind, if single drop a line."
The note, while short, continues: "Wish you loads of luck and a speedy return to Blighty."
It reminds us of sending a note in a bottle, tossing it into the ocean with the hopes of someone finding it, but the probability is unlikely. In this case, the kilt was definitely meant for a man, a soldier actually. I'm not a statistician, but those are some good odds she may get the attention of an available suitor.
Unfortunately, the kilt was never unpacked or worn and the writer, Helen Govan, of 49 Ardgowan Street in Glasgow, Scotland, never got a response.
Dr. Helen Paul, an academic in Southampton, England, found the note when opening the box the kilt had been shipped and stored in.
Dr. Paul explains how the kilt came into her possession saying: "This garment has been in our family for a number of decades and until recently we were completely unaware there was such an intriguing secret hidden in its folds."
She was surprised, and delighted, when the note fell out of the kilt when unfolded.
Dr. Paul, an economics historian at the University of Southampton, is keen to investigate further and find out more about the note and its sender. She told BBC, "It would be fantastic to trace who this lady was and learn more about her history." It's not confirmed, but her guess is that the woman was a seamstress, including the note with the kilt.
The home address may be a good starting place, with the possibility of Govan still having family in the area. It'd be nice to learn what happened to Govan and if she ever did find love.
Were you lucky to have an overseas pen pal growing up? 
See More:
Snapshot: 24 Photos of Richard Burton and Elizabeth Taylor's Romance
How to Maintain a Transatlantic Romance
Romances Between Royals and Regular Folk, Hollywood Style
Read More
Filed Under: