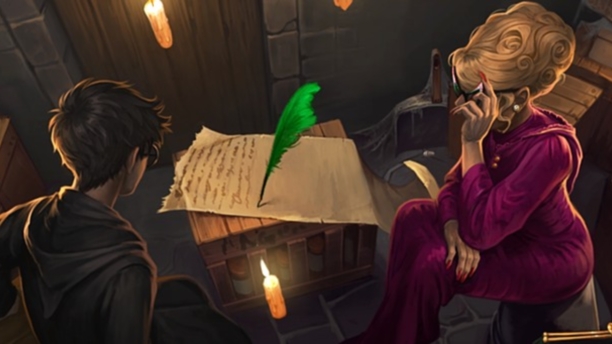 It's turning into a very Harry Potter kind of week. First we had an update on the spinoff movie Fantastic Beasts being shot in England, and what might have been our first glimpse at the titular creatures. And now, just casually and almost out of nowhere, J.K. Rowling has published the first piece of new fiction to feature the characters of Harry, Ron and Hermione in the seven years since the last book was published — updating us on their lives in the year 2014.
The descriptions of the now-34-year-old characters are part of a feature published on the official Pottermore fan site. The 1,500 word piece takes the form of a tabloid newspaper article written by the ever-unpopular wizarding journalist Rita Skeeter, and tells of "Dumbledore's Army" reuniting to watch the 2014 Quidditch World Cup. Harry is described as having "a couple of threads of silver in the famous Auror's black hair, but he continues to wear the distinctive round glasses that some might say are better suited to a style-deficient twelve-year-old." Ominously, Harry is also said to be "sporting a nasty cut over his right cheekbone", hinting at the dangers inherent in his ongoing Auror work.
Rowling also fills us in on the whereabouts of other characters, with Hermione notably described as "a meteoric rise to Deputy Head of the Department of Magical Law Enforcement", and there's also time to check in with the likes of Neville, Luna and the Weasley brothers. The full article can be read by signing up at Pottermore – along with a series of further posts by Rowling in which reporter Ginny Potter (nee Weasley) writes up the fictional World Cup matches.
Elsewhere, Potter actress Emma Watson has announced her latest role – and one that Rowling certainly didn't predict as part of Hermione's future – with the news that she is to become the United Nations' latest Goodwill Ambassador, promoting gender equality and the empowerment of women. The announcement of her appointment temporarily crashed the UN Women website, with Watson saying in a statement that "women's rights are something so inextricably linked with who I am, so deeply personal and rooted in my life that I can't imagine an opportunity more exciting".
As for her former cohorts, speculation is mounting as a result of this new material that Rowling may not yet be finished with the characters, and that we may see more stories featuring them in the future. Whether or not that's a good thing is a debate that's already dividing Potter fandom…
What do you think of the new Harry Potter material?
See more:
Happy 24th Birthday, Emma Watson: Five of Her Most Startling Roles
J.K. Rowling Regrets Romantic Storyline in 'Harry Potter' Series
'Harry Potter' Voted Britain's Favorite Children's Book
Read More
Filed Under: