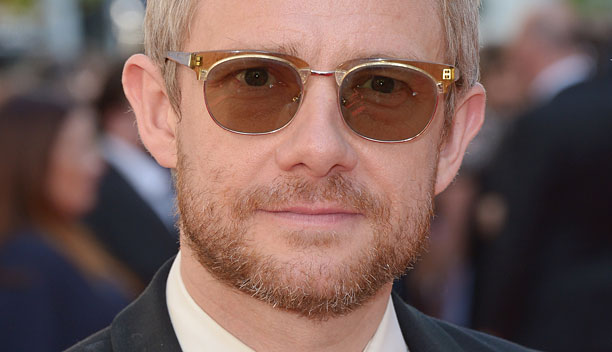 The full interview with Martin Freeman, from which his quotes about a Sherlock Christmas special were recently taken, has appeared in the Telegraph, and as you'd expect it is crammed with forthright and fascinating ideas about his various projects.
Most notable at the moment is his Richard III, which opened at London's Trafalgar Theatre this week to rave reviews and a standing ovation. When he spoke to the Telegraph it was a couple of weeks before opening night, and he was at pains not to give away too much, something he must surely have learned from working on Sherlock.
What he did do is describe Richard from a psychological standpoint, less as a figure whose deformities are the physical manifestation of his evil nature and more as a man who is tormented by his own reflection:
"I'll have physical deformities – a dodgy arm, a hump and a limp. I think people would want their money back if you just gave him a twitch. But also it feeds into how Richard sees himself. If the world has told him that he's ugly, or he doesn't fit, or he doesn't work properly, that has had a severe effect on how he sees his place in the world.
"So it starts basically with Richard telling the audience that he's going to be a real s***, and he's put lots of plots and devices into action. So if you start with that, you have to somehow make sense of why he's doing that. Otherwise he's just a boo-hiss villain. And in 2014 we want a bit more than that."
At this point it was suggested that this chimes with the character of the gold-chasing, psychologically damaged Gollum to an extent: "I've just been rehearsing a scene where Richard is having a little diatribe to himself, where his schizophrenic personality comes out. And it's absolutely Gollum, it's totally Gollum. It's like Shakespeare invented Gollum 400 years ago."
And then he talked about the story Mark Gatiss tells of his audition for Sherlock. He had been out of sorts on the day, Mark remembers that Martin said at the time this was because his wallet had been stolen. Now his story is slightly different:
"You know what? I completely have no recollection that I had my wallet nicked. I might have said that at the time…"
In order to excuse having had a rough day? "Yeah, I might have done, because I know I was in a bad mood. And I'm sometimes not very good at hiding that. So I wasn't really doing the dance. And that was probably being reflected back at me in the audition."
So when Mark and Steven Moffat rang his agent a week later and wondered if he was really interested in the part, he leapt at it:
"I met them again and did the dance – and, well, read with Benedict [Cumberbatch]. And that's what clinched it – 'cause then it wasn't theoretical. It was very, very clearly happening between us."
The full interview, including stuff about The Hobbit, Viggo Mortensen and Fargo, is here.
See more:
Surprise! A 'Sherlock' Special And Series 4!
WATCH: Martin Freeman on the Wit and Humor in Richard III
'Sherlock' Recap: 'His Last Vow'
10 Reasons Why Steven Moffat's 'Sherlock' is the Best

Read More
Filed Under: