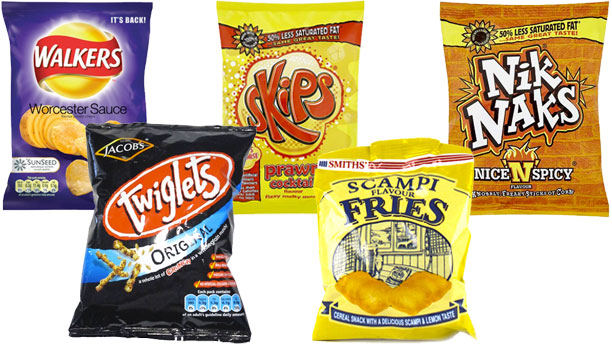 Often the most exciting thing about a trip to another country isn't the scenery or culturally enriching buildings, but a trip to the supermarket to find out what the locals enjoy eating when they're watching TV.
And as it's officially Junk Food Day (as opposed to all the other days, when no one eats unhealthy stuff ever), here's a roundup of what you can expect from the Brits (or their vending machine), next time you're visiting.
Note: These are all available in the U.S. too, you just have to find the right importer of British goods, and locate the most adventurous of your tastebuds.
Twiglets
The snack for people who like Marmite but worry that it is not portable enough. Twiglets are among the healthiest snacks you can find, as they are knobbly sticks made with whole wheat and seasoned with a Marmite-ish covering that is extremely rich in vitamin B. They also contain celery seed, an anti-inflammatory. And if that's not the reason you're eating junk food in the first place, try them dipped in hummus.
Walkers Worcester Sauce Crisps
Walkers are the most popular British brand of crisps (the word chips having an entirely different meaning, as we all know by now), and among the standard British flavors on offer—salt and vinegar, cheese and onion, smokey bacon—there's this purple-packeted beauty. All of the brackish tang of Worcestershire Sauce, but in potato chip form.
Skips
One of the few items of junk food that seeks to take an original foodstuff and improve it, the skip is a Chinese prawn cracker in the shape of a buttercup flower, with a smoother texture and a definite effervescence when placed on the tongue. They are available in a few flavors—Pickled Onion, Caribbean Spice Curry, Hot From Rio Chili and Chinese Spare Rib—but the essence of the thing is in the original prawn incarnation.
Nice 'n' Spicy Nik Naks
Another nobbly stick, this time made from extruded corn and resembling a caveman's club. They come in four flavors, Scampi 'n' Lemon (see below), Nice 'n' Spicy, Rib 'n' Saucy and Pickle 'n' Onion (I know, it makes no sense). The best is Nice 'n' Spicy, because it tastes like curry. Not an amazing curry you could get in a top-notch British Indian restaurant, but when coupled with a can of shandy, it's enough to make a Tuesday lunchtime feel a little like a Friday night out with the gang.
Scampi Fries
We have to leave these until last because there's an unpleasant side-effect that comes with tucking into a pack of these particular treats, and we don't want appetites ruined too soon. The idea with this particular culinary delight is that it replicates the sensation of eating a nice battered scampi, which means the individual nuggets have to be fish-flavored. That can be great as a taste sensation, but can leave your fingers smelling disgusting afterwards. If you're going to give these a try, always have a lemon-soaked moist towelette to hand. Or some rubber gloves.
See more:
5 British Soft Drinks That Americans Should Try
WATCH: 9 British Dishes Everyone Should Try
Fill Your Holes: It's National Doughnut Day!
Mint Julep Day: Five Foods the British Only Consume Once a Year
Read More
Filed Under: