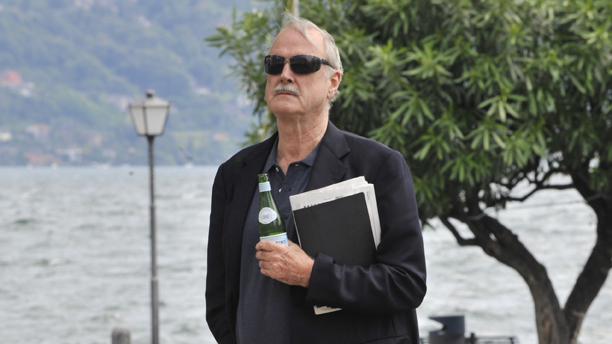 Word on the internet is that John Cleese (Fawlty Towers, Monty Python) has signed on to star as a British villain in a parody movie revolving around the American cult favorite Baywatch, reports The Guardian.
Some people may be asking, "Why?" or turning their nose up at the idea. With Cleese being a comedic actor, we're taking a guess that it'll be a bit of fun for him. And fun for us to watch him as a British baddie.
Cleese plays "a classic English villain" by the name of Victor Van Vaught. He does his criminal masterminding from his yacht in the Mediterranean.
The film, entitled The B-Team, is loosely based on a certain long-running TV show revolving around California lifeguards and their babelicious beach duties, but you won't ever hear the mention of Baywatch due to legalities. The non-mention becomes a running joke in the film, according to British director Chris Cottam (The Lives of the Saints).
Former Baywatch cast members—David Hasselhoff, Pamela Anderson, and Alexandra Paul—are set to star as themselves. The storyline was inspired by a joke amongst the cast during the '90s when they were traveling the world to promote the show. They would say they were actually CIA agents, and the show was their cover.
Plausible.
Paul, who played C.J. Parker in the TV series, elaborated on the plot, saying, "We play ourselves, so the audience might not know what is true-to-life and what is made up for the movie."
Okay, not so plausible.
Production will take place in Eastern Europe and Italy. The release date has yet to be determined.
Thoughts? 
See More: 
The Bourne Ultimatum: Why John Cleese Left The Bond Movies
10 Photos of Brits Actually Wearing Bowler Hats
PHOTOS: 'Monty Python Live' Rehearsal
Read More
Filed Under: