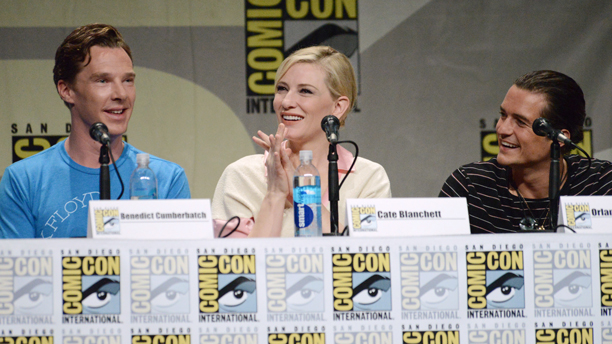 Benedict Cumberbatch wasn't only in town for The Penguins of Madagascar—which he'd done a panel for on Thursday (July 24)—he stuck around San Diego Comic-Con to take part in the star-filled panel for The Hobbit: The Battle of the Five Armies yesterday (July 26). And when we say "star-filled," well, rarely has Comic-Con's massive Hall H gathered so many box-office heavy-hitters on one stage. Warner Bros. kept the participants under wraps, but director Peter Jackson and most of the film series' principal cast turned up: Cumberbatch, Andy Serkis, Elijah Wood, Cate Blanchett, Orlando Bloom, Evangeline Lilly, Luke Evans, and Lee Pace all appeared before a very appreciative audience. (Martin Freeman, Richard Armitage, and Sir Ian McKellen were not present.)
Most of the panel also took part in a press conference that followed. Here were some highlights:
• Peter Jackson on changing the name of the film from There and Back Again to The Battle of the Five Armies: "When at a junket in Berlin, I pulled the Warner Bros. people up to the side and said, 'Listen, we don't have to discuss it now, but when you see the movie, just be aware that we're looking to change the name to The Battle of the Five Armies. They saw the movie and agreed. The There and Back Again title worked when there were two movies."
• Peter Jackson on the journey from the first Hobbit film to the finale and completing his Tolkien adaptations: "It starts at a certain point of innocence and naivete, and things just start to get darker and darker and the stakes go up, the screws gets tighter. [The Battle of the Five Armies] is the most emotional and most tense of the three, and I think it's my favorite of the three, to be honest. It's got a nice thriller pace to it. And when you get to the end of it, I think it will be the right time to hand it over. I always wanted to do a six-film set."
• And expect some tears: "Possibly we have characters dying in this film," Jackson said. "It's that stage where we can have some emotion that we haven't seen with The Hobbit yet."
• Even though they were assisted by technology, Benedict Cumberbatch (The Necromancer and Smaug) and Andy Serkis (Gollum) trained like opera singers to perfect their vocal performances. Cumberbatch said that developing proper technique took "quite a bit of practice. I had to do a lot of warming up because I was forcing the register down so much. I always had a lot of hot lemon honey gingers at the ready." Serkis added "It's hard to put across the scale and power of a character by just using your own voice. Breath is very important in making your character believeable."
• Evangeline Lilly corrected her director on how to say Smaug: "Never listen to Peter Jackson when it comes to the pronunciation of Elvish! It's not Schmmmowg, it's smmowg." Hey, she should know: she plays elf Tauriel in the films.
• Speaking of Tauriel, a character that did not exist in Tolkien's books, Peter Jackson says he created her to flesh out an Woodland Elf storyline in the movie. And, he says, "We really wanted to have a really great kick-ass chick." Lilly relished playing a new creation, unburdened by the weight of expectation that followed actors like Martin Freeman, who plays the iconic Bilbo Baggins. "I thought, besides the fact that the fans were probably going to eat me for lunch," Lilly said, "I had struck gold because nobody had a pre-conceived notion of how I was supposed to look and behave and so I had carte blanche. Really nobody could tell me how Tauriel should be, other than Peter Jackson, Fran Walsh and Philippa Boyens. Whereas somebody like Martin, I just pitied that man."
• Lilly noted that Tauriel was a low Elf in contrast to the high Elves in Lord of the Rings. "I intentionally didn't re-watch the Lord of the Rings because if I had, because I was so enthralled by Cate Blanchett's performance in the trilogy, I would have had to stop myself from copying her. I wanted to make sure what we did create would be completely unique as a Woodland female warrior Elf."
• During Comic-Con, it was announced that Legendary Pictures is developing a King Kong film titled Skull Island set for 2016. Jackson, who'd done his own Kong movie starring Naomi Watts back in 2005, heard the news along with the rest of us, but he offered his full support for the new project. Noting that his own King Kong was itself a remake, Jackson mused that another filmmaker might take on Tolkien in the coming years: "I always wondered if in my lifetime if we'll see any of the Lord of the Rings films remade."
See more:
Steven Moffat on Peter Jackson Directing 'Doctor Who': "I Think It Will Probably Happen"
'Star Wars Rebels' SDCC Panel: 10 Quotes to Hearten Longtime Fans
WATCH: Trailer for 'LEGO' The Hobbit' Video Game
Read More
Filed Under: