The BBC confirmed the identity of the final writer to contribute a script for Season 8 of Doctor Who. Liverpool-born author Frank Cottrell Boyce will write the tenth episode of the season, and represents perhaps the most interesting new name on the books since Neil Gaiman came onboard the TARDIS back in Season 6. While Cottrell Boyce's name might not be immediately familiar to many readers, however, he has a long and distinguished career in film, television and childrens' fiction—so if you want to discover just how good he is before seeing his Who episode, here are five of his most memorable works for you to check out.
Millions
A delightfully charming modern-day fable, Millions tells the story of two young brothers who find a bag filled with millions of pounds as a result of a train robbery gone wrong. As the U.K. is about to replace its currency with the Euro, the boys must decide what to do with the cash in the remaining weeks before it becomes worthless. First written as the screenplay for a Danny Boyle-directed movie in 2004, Cottrell Boyce also adapted the story into a novel, which was actually released before the film, and won him the prestigious Carnegie Medal for childrens' literature.
God on Trial
A controversial, but intensely powerful, one-off drama co-produced by the BBC and WGBH Boston. Based on a memoir by Elie Wiesel, it tells the possibly-apocryphal story of a group of prisoners in the Auschwitz concentration camp staging a trial of God in absentia for his perceived abandonment of the Jewish people. It featured among its cast Sir Anthony Sher, Dominic Cooper and Sherlock's Rupert Graves.
24 Hour Party People
One of seven collaborations with director Michael Winterbottom, and perhaps the finest, this 2002 movie tells the story of television presenter and music impresario Anthony H. Wilson and his role Manchester's music scene of the 1970s and 1980s. It's a devilishly clever screenplay that frequently breaks the fourth wall and even sees Wilson himself (who is played in the film by Steve Coogan) appear as a narrator. It also features a veritable who's who of Doctor Who guest stars in supporting roles, including John Simm, Simon Pegg, Peter Kay, Shirley Henderson and—in a one-line cameo—Ninth Doctor Christopher Eccleston. British film luminaries Paddy Considine and Andy Serkis also play major roles.
The Railway Man
Another script based on a memoir, this time that of Eric Lomax, a British officer during World War II who became a Japanese prisoner of war. Cottrell Boyce wrote the script around fifteen years before its eventual production—the writer once said that "getting out the Railway Man script and tinkering with it seemed a never-ending annual ritual"—but it took the Oscar-winning success of Colin Firth in The King's Speech for the star to be able to attract the necessary funding to have the film made. It was finally released in 2013.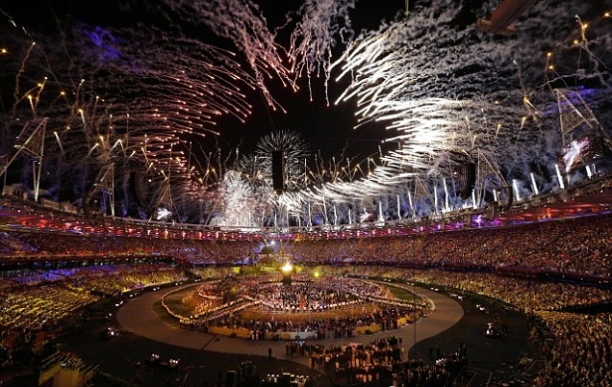 London 2012 Opening Ceremony
Watched by 900 million viewers worldwide, this was a masterful, once-in-a-lifetime event that celebrated and encapsulated many aspects of Britishness. While its director and overall architect Danny Boyle reaped most of the public praise (and purportedly turned down the knighthood he was offered as a result), Cottrell Boyce's contribution as writer can't be overlooked. "Last night was a pyrotechnic act of confession," he wrote in The Guardian the morning after, "and I feel elated by the magic we created."
Are you looking forward to Frank's episode? Who else would you like to see write for Doctor Who?
See more:
Best of 'Doctor Who' 50th Anniversary Poll: 10 Greatest Stories
Richard Curtis: Writing 'Doctor Who' Prepared Me for Doing 'About Time'
Frank Cottrell Boyce Brings a Cast of Children to 'Doctor Who' Season Eight
Read More
Filed Under: