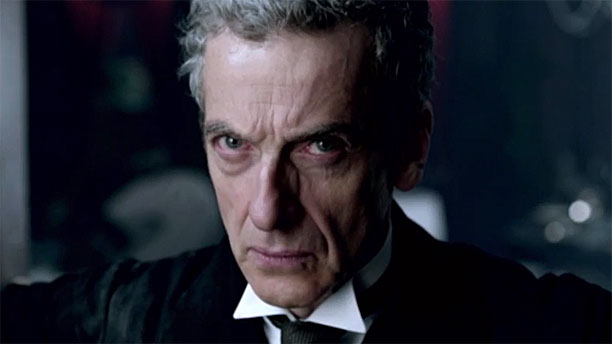 The past week in Doctor Who fandom can be divided into two sections: BT (before trailer) and AT (after trailer). Because once you've clapped eyes on this beauty, everything else falls away:
That's right, we're going into darkness, and, judging on the snippets above, the Twelfth Doctor appears be something of a dandy, rather like his Third incarnation.
Quite apart from the nightshirt for night-time horseriding—which we'll have to assume is circumstantial, rather than a style choice—there's the sharp wingtip collar and tie combo above, the already famous tie-less affair below…
And is this a sweater? A black T-shirt? Whatever it is, it's very "into darkness," isn't it?
And that's before we've taken a look at some of the new faces on offer. There's this fella:
Then there's this chap here with the fiery hand:
This rather angry-looking robot:
And finally… another thing Third Doctor fans will remember fondly. A dinosaur in London.
That's more excitement than anyone can be expected to handle in one short nugget of trailer. And that's before we've even thought about the Dalek-y voice saying "Life returns, life prevails" and the Doctor's stated aim that he needs to make amends for his past mistakes.
What can it all mean? We'll just have to wait and see.
Here's what else has been going on in space and time this week:
• Steven Moffat attended a Q&A at London Film and Comic-Con last week, and here are two of his best answers, according to Twitter:
Steven Moffat reveals he has a picture of Benedict Cumberbatch and Martin Feeeman in their Sherlock outfits in the TARDIS. #lfcc #DoctorWho

— Blogtor Who (@BlogtorWho) July 12, 2014
And
Q: "Any chance of a Sherlock crossover?" Moffat: "no, because he's fictional in the DW universe. Madam Vastra's the real Holmes" #lfcc — such heights (@such_heights) July 12, 2014
• The actor and comedian Sanjeev Bhaskar has been added to the two-part finale of Season Eight.
• A brief guide to the work of Frank Cottrell Boyce, Season Eight's most recently-announced scriptwriter.
• If you're attending San Diego Comic Con this year, be sure to pay a visit to the BBC AMERICA booth (#4129) on preview night, or the BBC AMERICA booth or the USAopoly booth (#1017) for the rest of the convention. And why? Because these are the only places you'll be able to get your hands on this Doctor Who Pandorica Yahtzee set:
• Entertainment Weekly has another new image of Peter Capaldi and Jenna Coleman, and guess what, it displays another new look for the Twelfth Doctor. Here's betting that the massive (yet swimming pool-less) library in Capaldi's TARDIS is matched by an equally extensive wardrobe.
• The team behind Halle Berry's new TV show Extant—exec produced by Steven Spielberg—say it was heavily influenced by Doctor Who. Mickey Fisher, creator and exec, said: "While I was writing the pilot, because I'm a big Doctor Who fan, I had a Post-it note on the corner of my monitor that said, 'WWSMD; what would Steven Moffat do?'
"The answer was always, 'He would just write it better', so I kind of just kept trying to do that."
• Last week, Billie Piper embarked on a Twitter Q&A session which took in her pop star past, her favorite movies and songs, and naturally a couple of Doctor Who questions, like these:
@thecallumgordon I get called Rose by children which is totally fine, even if adults did it I would be fine! Xx #AskBillie

— Billie Piper (@billiepiper) July 8, 2014
@Thed0ctorlies Terrifying and exhausting. We started with a hideous night shoot…! Xx #AskBillie — Billie Piper (@billiepiper) July 8, 2014
@TenOncominStorm John Hurt was pretty amazing but I got over that quite quickly because I realised he was just a top draw guy! Xx #AskBillie

— Billie Piper (@billiepiper) July 8, 2014
• The Radio Times are being fiendish with their Doctor Who quizzes. For starters, there's David Tennant or Matt Smith – Who Said What?
• And if that's too easy, how about Name The Doctor Who Story From Just One Image. (And if that's too easy, try Part Two.)
• WhatCulture has seven reasons why the Rani should make a comeback.
• And finally, let us leave you with this superb spot by Sherlock fans, in which it becomes clear that a Wholock moment actually happened over 30 years ago:
TTFN!
Read More
Filed Under: