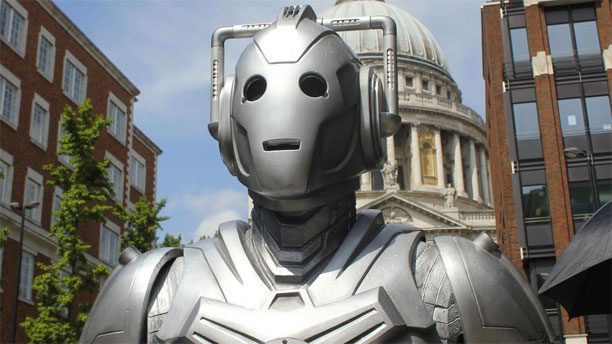 Welcome to another Doctor Who's Day Roundup, gathering up a week's worth of Gallifreyan delights.
And to kick off, bless my soul, look who's back! The Cybermen have been out in force, filming in a London location near to St. Paul's Cathedral…
#DoctorWho A metal moment revisited… pic.twitter.com/5ZLCDeE9Dm

— Doctor Who Official (@bbcdoctorwho) July 19, 2014
This part of London has been a constant trouble spot for the Doctor, given that the most iconic Cybermen shot of the classic Who era happened here, from 1968's Second Doctor classic "The Invasion":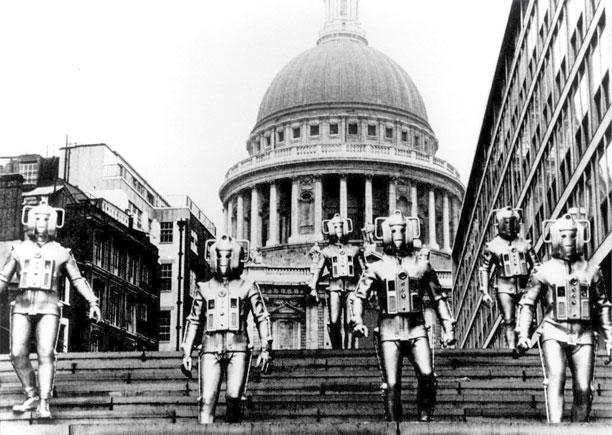 And then there was this Cybershot, to promote the Doctor Who Experience, a couple of years ago: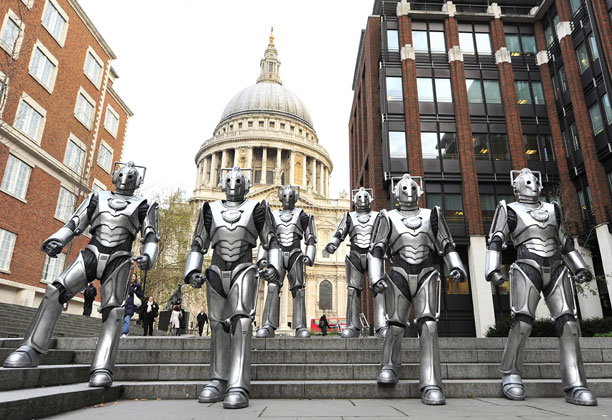 So clearly these tinpot terrors have fresh business with the Doctor, and that means we should all be on our guard. Thankfully, the Doctor Who site has some helpful resources, to bring everyone up to speed:
There's a new interactive e-book: The Doctor Who: Cybermen Monster File, with clips and photos:
The book also features "Cybermen: Status Update," a new adventure written by Joseph Lidster and read by Nicholas Briggs (the voice of the Cybermen and the Daleks). Here's a clip:
• And behind the scenes, there are interviews with both Nicholas Briggs and Joseph Lidster, who said this: "There have been so many brilliant Cybermen stories over the years so it can be quite difficult to come up with something new for them to do—and even harder to do this in a short story. By telling it from the point of view of a teenage boy it allowed me to explore what it would be like if an invasion actually happened."
Here's what else has been going on in space and time this week:
• As if the anticipation weren't high enough for the new season of Doctor Who. Now we have Karen Gillan's seal of approval. She tells Yahoo! TV UK and Ireland about witnessing Peter Capaldi's first appearance on set. She simply confirms that the show is in "safe hands" with Capaldi at the helm.
• Karen also appears in one of a range of new Guardians of the Galaxy poster that you can see here so, you know, get excited!
• Paul McGann weighs in on dream casting for upcoming Doctor Who episodes, singling out Charles Dance (The Jewel in the Crown, Game of Thrones) as his pick to play the Master. As McGann says in support, "He's still got a twinkle in his eye."
• This marvelous fan-made version of last week's "into darkness" trailer appeared, repurposed for the handover from the Third to the Fourth Doctors, exactly forty years ago (via Aquatics64):
• Den of Geek has posted this thoughtful piece on what a "back to basics" approach would mean for the next season of Doctor Who.
• While reflecting on filming U.S. Broadchurch remake Gracepoint, David Tennant shared some words of wisdom with the Television Critics Association Gracepoint panel: "You can mess up a good script, but you can't make a bad script much better. I'm just happy to be where the good writing is." Not to mention the good dialect coaches, too — executive producer Carolyn Bernstein calls Tennant's American accent "flawless."
• Radio Times is back with more Who-themed quizzes! Click here to prove how well you know Christopher Eccleston's Ninth Doctor.
• Speaking of Eccleston, Vulture recently chatted with him about his new show, HBO's The Leftovers.
• Check out bookshelfproductions' fantastic Lego remake of "The Day of the Doctor" below:
• Den of Geek put together a compilation of fantastic reswizzlings of the Doctor Who theme.
• Let's leave with something rather beautiful. Photographer Ashley Good put together these triple-exposures of the twelve current Doctors (including the War Doctor, but saving the Twelfth Doctor for now) under the heading Time Lord Selfies. Why not take in the complete set?

TTFN!
Read More
Filed Under: