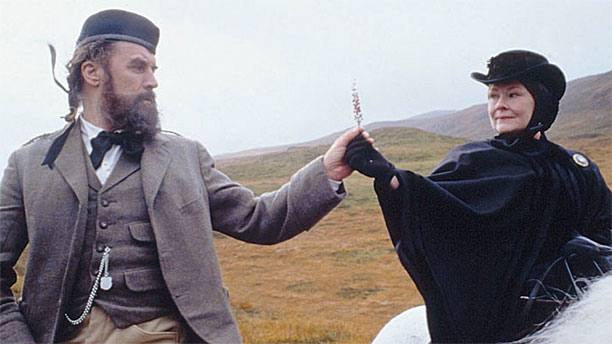 Life is never boring if you're the head of a country. There are international treaties to oversee, bitter arguments to overcome, threats from rivals and countries to conquer, and sometimes your personal life can't help but get in the way, crown or no crown. These are the kind of stories that are irresistible for script-writers and movie makers.
So here, in order of succession to the throne, is an definitive dramatic history of (some of) the kings and queens of England.
Henry II (1154-89)
As played by Peter O'Toole in 1963's Becket, opposite Richard Burton as the troublesome priest Thomas Becket. Peter played him again in 1968's The Lion In Winter, bringing along Katharine Hepburn as his canny bride, Eleanor of Aquitane.
Richard I (1189-99)
https://www.youtube.com/watch?v=4BClNhcHzZA
Despite living a life that makes eventful look a bit drab, Richard the Lionheart's story is most often told as the backdrop to that of Robin Hood. Richard Harris played a dying Richard brilliantly in 1976's Robin and Marian, starring Sean Connery in the title role, but it's Sean's cameo as Richard in Robin Hood: Prince of Thieves that lingers longest in the public memory. Largely because it was an unexpected treat at the end of a daft, but entertaining romp. Mike McShane's accent hasn't got any better, has it?
Edward I (1272-1307)
This gangling ruler was known as Edward Longshanks because of his height—6ft 2in—and as the Hammer of the Scots, because he was something of a rotten swine to the people of Scotland. Therefore it's no surprise that the most notable reading of this warrior king thus far was Patrick McGoohan's drippingly evil turn in Braveheart.
Incidentally, you may like to know that Edward also gave England the phrase taking Shanks's pony, which means walking. The gag being that his legs were so long he'd be walking even on horseback.
Richard II (1377-99)
In recent years, there's been something of a revival of Shakespeare's other play about a king called Richard. David Tennant played him last year, bearing a long ponytail, with Eddie Redmayne and Kevin Spacey taking up new productions before that. There's also a blistering BBC version from 1978, with the lead role being taken by Derek Jacobi, but let's take a moment to tip the hat towards Ben Whishaw in The Hollow Crown.
Henry V (1413-22)
You may be expecting Tom Hiddleston's bravura reading of Shakespeare's bullish king in The Hollow Crown to take precedence here, but despite many wondrous attempts, including that of Kenneth Branagh, the prize for best King Harry must always go to Laurence Olivier. His definitive account was filmed when Britain was in the midst of World War II, lending a fresh meaning to every speech about brothers, about courage, about patriotism. Every other attempt, no matter how nobly performed, can only pale by comparison.
Richard III (1483-5)
https://www.youtube.com/watch?v=DsGGjXZw1eQ
Well, we're rather spoiled for choice here, given the popularity of Shakespeare's finest villain, the last Plantagenet king. Olivier looms large once again, as no doubt will Benedict Cumberbatch in The Hollow Crown's sequel, due in 2016. Martin Freeman is playing Richard right now. Peter Cook played him in The Black Adder, Anthony Sher gave a remarkable performance, utilising crutches to make deformed Richard appear spider-like, even Al Pacino has had a go. But really it's the 1995 Ian McKellen fascist Richard that wins the game and this particular throne.
Henry VIII (1509-47)
It's hard to pick a perfect Henry, because there were so many of him. There was the young warrior, the impetuous braggart, the womanizer, the hot-head who destroyed the monasteries and severed England's link with Rome, and the glutton. Jonathan Rhys Meyers portrayed the potent, impatient young Henry in The Tudors, Keith Michell's turn in Six Wives of Henry VIII covers the relentless (and ultimately fruitless) search for a male heir, and for the latter years, you can't beat Charles Laughton in 1933's The Private Life of Henry VIII.
Lady Jane Grey (1553)
She was only queen for nine days, having been coerced in order to prevent the accession of Catholic Queen Mary, and was executed age 18, so this is not a role Helen Mirren could pull off any more. Luckily a very young Helena Bonham Carter did the job for her in Lady Jane, in 1986.
Elizabeth I (1558-1603)
Another very popular choice for theatrical presentation. The list of prominent Elizabeths includes Judi Dench, Vanessa Redgrave, Glenda Jackson, Helen Mirren, Miranda Richardson in Blackadder II, Joanna Page in Doctor Who, even Quentin Crisp in Sally Potter's Orlando. But let's face it, Cate Blanchett has the heart and stomach of this particular queen.
George III (1760-1820)
Nigel Hawthorne in Alan Bennett's The Madness of King George. That is all, except to say that music you hear as the king is restrained in this clip is Handel's "Zadok the Priest", as composed for the coronation of George II, and used for every monarch since.
Victoria (1837-1901)
Victoria has been played by more actors than any other British monarch, and enjoyed a reign that spanned over 60 years, so lots of scope for various key moments to be covered dramatically. Notable Victorias include Prunella Scales in An Evening with Queen Victoria, Emily Blunt in Young Victoria, Imelda Staunton in The Pirates! Band of Misfits, Saskia Wickham in Victoria Meets, Pauline Collins in Doctor Who. But again, one name stands above all the others. Step forward Judi Dench in Mrs Brown.
George VI (1936-52)
For a list such as this, it would be an act of extreme contrariness not to pick Colin Firth's performance as the unwilling King George in The King's Speech. And for fans of efficiency we also get Guy Pearce as his elder brother Edward VIII (a performance only bested by Tom Hollander in Channel 4's Any Human Heart), and Michael Gambon as George V.
Elizabeth II (1952-)
We could hardly leave Dame Helen Mirren out, seeing as she is the only actress to have played both Elizabeth I for TV in Elizabeth I, and Elizabeth II—once on screen in The Queen, and once on stage in The Audience. You can add Queen Charlotte in The Madness of King George too, if you like. Victoria next, please!
See more:
WATCH: The Worst Rulers in British History
10 British Actors and the Iconic Roles They Didn't Play
The Surprising Singing Voices of British Actors
WATCH: Dame Helen Mirren Plays Juliet For 10 Seconds
Five British Stars And Five Things They Should Give Up For Lent
Read More
Filed Under: