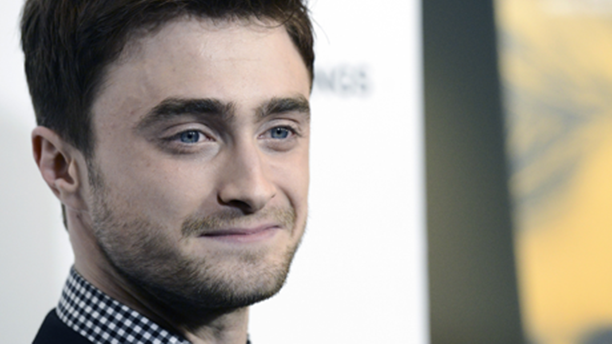 Actor Daniel Radcliffe (Harry Potter, What If) has been spotted in NYC's Bryant Park with a gaggle of dogs. It would be pretty amazing if Radcliffe were simply a dog lover, doing a pal (or pals) a favor, or picked up a part-time job, but we're pretty sure this is for a role.
Daniel Radcliffe walking 12 dogs while smoking. (Via Reddit) pic.twitter.com/7lPISAXw2p

— Google Facts (@GoogleFacts) July 1, 2014
It hasn't been confirmed, but Radcliffe may be playing a dog walker for director Judd Apatow's upcoming comedy Trainwreck.
Apatow (This is 40) shot down that rumor as "not true" in his below tweet:
"@danradcliffecom:Dan to cameo in Trainwreck? READ: http://t.co/gGW5o43HIB pic.twitter.com/D2XcNoHeEU" Not true! He was just walking his dogs

— Judd Apatow (@JuddApatow) June 30, 2014
Considering Apatow posed with Radcliffe in this snap, it sounds like the comedy writer might be goofing around with the English actor. Radcliffe is listed as a cast member on IMDB, but that's not always 100 percent accurate. Comedian Amy Schumer is confirmed to have written the script and will also star in the film, according to Vulture. Other than that, the details are "under wraps."
It's not clear if that cigarette hanging off the former child star's lip is for the role or if he's on break. It reminds us of Radcliffe's hilarious cameo on Extras, where he played himself, and tried to impress on Maggie (Ashley Jensen) how grown up he was because he had a cigarette habit he just couldn't kick, which you can watch here.
Either way, it looks like Radcliffe had a fun day out with his canine friends.
Trainwreck is scheduled to hit theaters on July 24, 2015.
Would you be excited to see Radcliffe in an Apatow comedy?
See More:
First Look: Daniel Radcliffe in Romantic Comedy 'What If'
Daniel Radcliffe: "We Could Have Done with an Acting Coach for 'Harry Potter'"
WATCH: Even Daniel Radcliffe Must Fight For Broadway Attention
Read More
Filed Under: