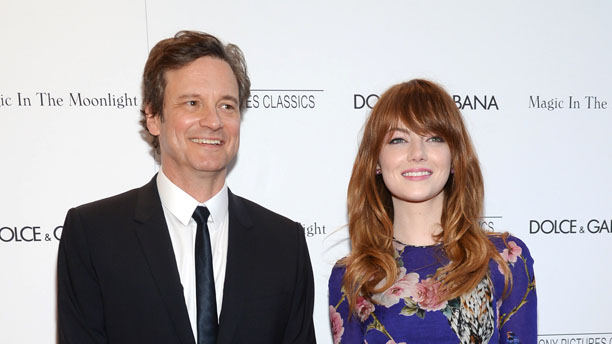 Playing tongue-tied for the camera was no sweat for The King's Speech star Colin Firth, but it turns out the self-described shy actor finds himself at a loss in real life too sometimes, as he did on the set of Woody Allen's new film Magic in the Moonlight.
"My conversations with [Allen] were only about the scenes he was directing," Firth reflected in an interview with Indiewire about starring in Magic. "When I meet another shy person it tends to go a little dead. I'm a very repressed Englishman and he's a reserved, New York intellectual. We tended to keep a strictly professional rapport."
It seems that Firth's co-star Emma Stone had a little bit more luck on the chatting front, though. "I asked him what movies of his he likes," Stone remembered. "He would say, 'None of them are very good.'"
Even if Allen is self-deprecating about his work, Stone is a fan of the filmmaker's output, having named her first dog Alvy after Allen's character in Annie Hall. She also loves a good Colin Firth flick, and likes to share her enthusiasm with her co-star in a very distinctive way. "I live-texted Colin the entire plot of Bridget Jones: The Edge of Reason a few months back," Stone mentioned to The Daily Beast. "I talked him through what he was doing."
"She's talking through my back catalog via text!" Firth exclaimed. "I might decide to not revisit stuff in the past, and then you get a good friend saying, 'Oh, when you were doing this you had this and that expression on your face.'" Don't be embarrassed, Colin — Stone elucidated that it was all complimentary with a well-timed "I like you very much…just as you are."
Though his name is practically synonymous with New York, Woody Allen's filmography does have much to offer to Anglophiles. Allen traveled to London to film 2005's Match Point, whose cast includes Brits like Emily Mortimer, Matthew Goode, and even Mark Gatiss in a blink-and-you'll-miss-it moment. Kenneth Branagh did his best Allen impression starring as a tabloid journalist in 1998's Celebrity. And of course, Midnight in Paris features Anglophenia mainstay Tom Hiddleston turning on the charm as F. Scott Fitzgerald.
Speaking of casts, Allen is well known for his intertwined writing and casting processes. While writing, he often has a specific person in mind for each character; when it's time to cast, he sends the desired actor a personal note along with the screenplay. Though this is a friendly touch, Firth never forgot the serious level of secrecy surrounding the project. "Scripts come on a computer now. This one did not," Firth clarified. "It had to be transported, handcuffed to somebody."
This didn't detract from the message itself, though. "It was just a little thing about 'how great you would be in this role,'" Firth reflected. "And you know, I don't have to think too hard about working with Woody Allen."
Magic in the Moonlight arrives in select theaters tomorrow (July 25). Watch the trailer below:
Do you have plans to head out to see Magic in the Moonlight at the cinema?
See more:
Colin Firth: "Paddington Simply Doesn't Have My Voice"
WATCH: Colin Firth and Emma Stone in Woody Allen's 'Magic in the Moonlight' Trailer
The Surprising Singing Voices of British Actors
Read More
Filed Under: