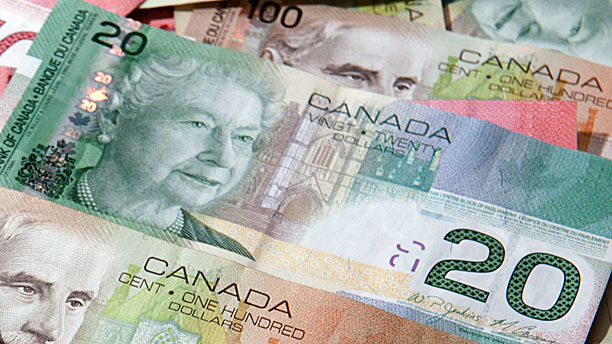 Imagine a land that has similarly breathtaking landscapes and climate shifts to that of the U.S., one that exists broadly in the same part of the world as the U.S. but has hung on to more British cultural influences than the U.S. wanted to. Wouldn't that be something? Not an American Britain, but a third sort of a place, one that has the best of both worlds and a third, undefinable—OK, French—influence too.
Now look up, smile and wave. It's Canada!
Here are some British things the Canadians share, or some Canadian things the British take credit for, depending on your point de vue:
Spelling
That old rascal the confusing British English u remains in Canadian English words such as colour, valour and honour, and they call the last letter of the alphabet zed, just like the British. Canadians also put the British double L in travelled and unravelled, but the British s in realise is a z, just like in America.
Mike Myers
It shouldn't come as much of a shock to find out that Mike Myers was raised by British parents. Of his three most famous comic creations—Wayne Campbell, Shrek and Austin Powers—two have accents that originated in the British Isles. Shrek is Scottish, and Austin Powers is from a particularly posh and randy part of Liverpool (in the 1960s). Mike's parents—Eric and Alice—were originally from Liverpool before they moved to Scarborough, Toronto, and Alice used to read Mike bedtime stories using regional British accents. The Scottish one stuck. Mike went on to cut his comedy teeth not only with Second City Canadian Touring Company in Toronto, but in London as a member of The Comedy Store Players.
The Royal Family
Still very big in Canada, by all accounts, and the Queen is all over Canadian currency like maple syrup on waffles.
The Commonwealth
There's a bunch of former British colonies and affiliated countries that were once referred to as the Commonwealth of Nations during the reign of the British Empire. This affiliation continues to this day, but the Commonwealth is a voluntary association between former colonies. Some maintain the British Royal Family as the head of state—these are the Commonwealth realms, including Canada and Australia, Papua New Guinea and New Zealand—and some do not. They get together for their own private Olympics every four years too: the Commonwealth Games.
Bryan Adams
https://www.youtube.com/watch?v=ZGoWtY_h4xo
He may have been born in Ontario, but Bryan's parents—Capt. Conrad J. Adams and Elizabeth Jane Adams—had emigrated there from the U.K. in the 1950s, ready to start a family. And if that seems tenuous, consider this: Bryan's father became a diplomat in the Canadian foreign service, which lead to postings in Israel, Portugal, Austria and Britain. Oh, and one of his earliest bands was called Sweeney Todd.
The Metric System
Actually, to be entirely accurate, it's not just that the Canadians have the metric system, it's that they have it and ignore it in the same way the Brits do. Height and weight? Still largely imperial, in practice. Distance and temperature? Metric.
CBC
While the Canadian Broadcasting Corporation does fund itself using advertising, in a way that the homegrown BBC does not, in other ways the operating models for both organizations have been traditionally fairly close. CBC is a Crown corporation, a term used to describe enterprises which are owned by the state within Commonwealth nations. So, much like the BBC, it's a national broadcaster, across a variety of local languages, that began as a radio-only network in the early years of the 20th century and developed TV channels from the early '50s onwards.
Kim Cattrall
Born in Liverpool, Kim emigrated to Courtenay, British Columbia when she was three months old, coming back to England aged 11, when her grandmother became ill. Having taken several examinations at the London Academy of Music and Dramatic Art over the next five years, she then went back to Canada to complete high school, then moved to New York to start her career at the American Academy of Dramatic Arts. Sex and the City fans, you are welcome.
British TV
As you may expect, Doctor Who and Sherlock do well in Canada. As does Top Gear and The Graham Norton Show. What you may not be aware of are the British shows on BBC CANADA, such as Location, Location, Location (house-hunting series), Mrs. Brown's Boys (a BBC production of a show about an Irish family, written and performed by Brendan O'Carroll) and One Born Every Minute (a documentary series about women giving birth in hospital).
Canada Post (Société canadienne des postes)
The Canadian postal service was known as Royal Mail Canada—an echo of the British Royal Mail—until the late 1960s, when it became Canada Post. In the early 1980s it became a Crown corporation like CBC, and is doing a pretty impressive job of getting mail to some of the most unforgiving territories on Earth. Canada Post delivers mail to a larger area of recipients than the postal service of any other nation, including Russia (largely because the Siberian mail tends to only go to addresses along the railway).
See more:
Fill Your Holes: It's National Doughnut Day!
Mint Julep Day: Five Foods the British Only Consume Once a Year
10 British Things About Manchester, New Hampshire
10 British Things About Orange County, CA
Read More
Filed Under: