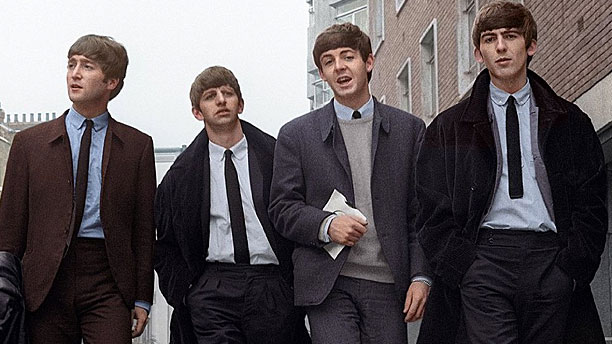 Yesterday (July 16) it was announced that Ron Howard will direct and produce a new Beatles documentary, with the full authority of the band themselves. It's devoted to the years in which they were a functioning, gigging band—broadly 1960 to 1966—and will feature fresh contributions from Sir Paul McCartney, Ringo Starr, Yoko Ono Lennon and Olivia Harrison, as well as archive footage of John Lennon and George Harrison.
Some of the footage will come from super-8 reels taken by fans, which are being digitally restored, and from mixing desk recordings of the band playing live. So there will be moments that even the most die-hard of Beatles nuts won't have seen before. And each segment will seek to put the footage, the music and the mania into the context of the times.
Archivists have been working on collecting footage for a couple of years now, having sent out this plea in 2012.
Ron said: "We are going to be able to take the Super 8 footage that we found, that was all shot silent. We'll not only be able to digitally repair a lot of that, but we've also been finding the original recordings. We can now sync it up and create a concert experience so immersive and so engaging, I believe you're going to actually feel like you're somewhere in the Sixties, seeing what it was like to be there, feeling it and hearing it. And as a film director, that's a fantastic challenge."
And it won't just be the band's version of events either: "We may have a shot of a boy or a girl very early in their life at a concert, and then we may be able to find them today and talk to them, and talk to their grandchildren and see what their relationship is with the Beatles, and understand how multiple generations find tremendous value and relevance in their music."
So, while they're working away, what sort of stuff should we expect to see? Here's a brief sample of footage that must surely be under consideration:
The Cavern, 1962
This performance of "Some Other Guy" was filmed for a Granada TV report on the band, shortly after Ringo first joined.
Bournemouth, 1963
This footage comes from CBS, NBC and ABC news, who were filming this silly teen fad in Britain, with little clue as to what was going to happen next.
The Royal Variety Performance, 1963
Check out the between-song gags. John's perfectly-judged "rattle your jewelry" one-liner, just cheeky enough to charm without causing the rising hackles of outrage, and Paul's sly little sidestep before "Til There Was You."
Lost interviews
When the mood took them, the Beatles could be masterful at charming even the most hardened reporter from the snippiest newspapers, although a good deal of the interviews do betray just how stiff and staid TV reporters were. Their deft ability to bat away tiresome questions with wit stood them in good stead when conquering America.
Global TV Appearances
The Beatles on Swedish TV in 1963, in front of a wild and crazy audience (who are mostly sitting down).
This slightly too-high version of "Yesterday"
http://youtu.be/4qMNE3TZGtA?t=7m32s
Skip ahead to around the 7:30 mark in this footage from a 1966 TV concert in Germany, and you'll see that, for reasons best known to the band, they've elected to play a full band version "Yesterday" pitched a whole tone higher than the original. Can Paul hit all the high notes? Yes. Is he comfortable doing so? Well…
Rotating drum risers and Shea Stadium
The 1964 Washington concert was notable in that the Beatles appeared in the center of a large audience, and had to keep stopping to rotate Ringo's drum riser and move the amps and microphone stands. Slick, it is not.
And then, a year later, the band played Shea Stadium to a crowd that could not have heard a note. Small wonder John started playing the keyboard with his elbow.
The film is currently expected to be released in 2015/early 2016.
See more:
WATCH: Sir Paul McCartney Helps Two Fans Get Engaged
10 Very British References in Beatles Songs
What Would Beatles Albums Have Been Like If They Had Never Split Up?
5 Unlikely (But Great) Beatles Covers
Read More
Filed Under: