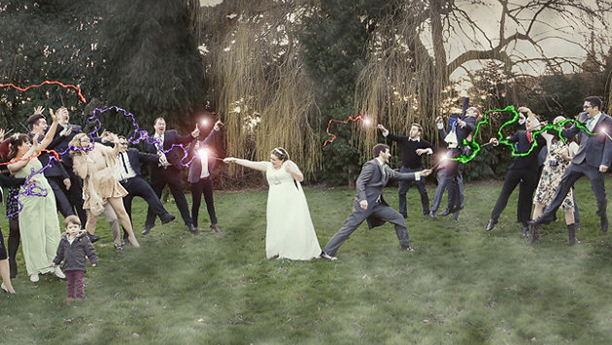 A young couple were both so in love with J.K. Rowling's wizarding stories, they figured what better way to express their love for each other on their wedding day than to invite Harry Potter, reports the U.K. Express.
Zoe Howe, 25, from Telford, Shropshire, England, met her American fiancé, Alex Pitas, 26, from Wisconsin, U.S., nine years prior to their nuptials. Pitas grew up reading Harry Potter, but Howe's introduction came much later when reading the books to their now 2-year-old son.
Howe was hooked.
The new bride told the U.K. paper, "We decided, if we were going to spend money on a wedding it should be super personal and one that is memorable."
The two spent every night, for nine months, making unique decorations for the wedding like handmade wands for each guest. Of course, their late-night crafting came after reading a passage of Harry Potter to their young son before he went to bed.
Prior to the formal ceremony, the couple were married at the local registry, intertwining lines from Harry Potter into their vows.
For the wedding itself, the couple put their "own twist on things" incorporating Harry Potter "values" throughout the wedding. The music was from the Harry Potter soundtrack, and the bride's bouquet was made of paper flowers from actual book pages.
It's a shame to sacrifice a HP book, but it was all in the name of love.
The cake, the final touch for most weddings, was a Sorting Hat placed on top of wizarding books, which you can see here. Even Hedwig swung by for the festivities.
The memorable day came to a close with the wedding party getting out their wands for a (friendly) duel.
Have you attended a British-themed wedding? Tell us about it!
See More: 
Throwing a Perfect Wedding: How to Combine British and American Traditions
5 Reasons for a Brit to Marry an American
Liverpool Man Pulls Desperate Stunt to Stall Wedding
Read More
Filed Under: