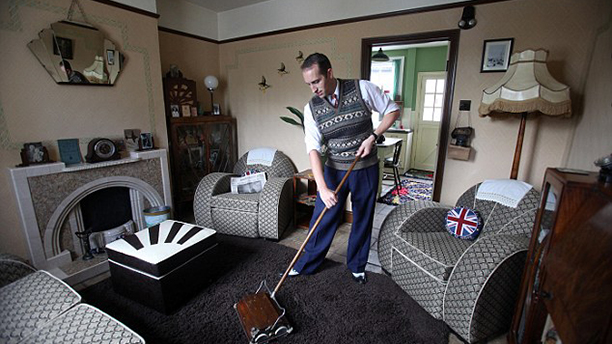 Surely you've been asked, "If you could live in any time period, when would it be?"
Everyone has a different answer for their own personal reasons, like jumping back to the 1960s to wear poodle skirts and witness Beatlemania firsthand. Or, say, the 1990s and being immersed in Cool Britannia.
Ben Sansum, 35, has gone a step further, selecting the 1940s and actually living in it, as featured in BBC News Real Time series. The online series focuses on "ordinary people and their extraordinary stories."
Sansum, who lives in Cambridgeshire, England, is so keen on the life and times of Great Britiain during the 1940s that he's attempted to recreate the era as much as he can in his own home. Sansum grew up loving the music, the cars, and the fashion of the '40s and doesn't see himself growing out of it any time soon.
He seeks out actual furniture from the era, uses a wood burning range cooker, and of course, owns a record player playing music from the time. Even his phone is from the 1940s, but he can only receive calls because some of the numbers are broken to dial out.
You might think, well, what happens if he's dating someone: what do they think of his dedication to the 1940s? He does have a special someone in his life, and he talks about balancing modern life with his period lifestyle in the Real Time episode.
Sansum tells the story best, as seen in the below video:
Some people might be scratching their heads, but Sansum is getting support via Twitter:
Huge kudos to #BenSansum Blinkered minds will write him off as an eccentric, but huge credit for his commitment! http://t.co/UFIptjRxWo

— Finsbury Park (@34Gmusic) July 4, 2014
While it's not an era, but a place, it's kind of like living in the U.S. and loving everything British. When people ask me, "Why do you like Britain so much?" I can't really settle on a succinct answer because it's difficult to put into words. Honestly, it's just the way it makes me feel when I am there. I can't speak for Sansum, but the 1940s seem to evoke a feeling in him, and since he can't transport back to the 1940s, he brings as much of it as he can to him.
If you're liking Sansum's idea, you may want to check out The Edwardian Country House as featured in a recent Brit Binge.
If you could live in any other era besides now, when would it be?
See More: 
British Man Sets Up Squirrel Obstacle Course in Back Garden
British Pub Receives Letter of Apology 20 Years After Break-In
10 Weird Ways To Break Your Phone In Britain
Read More
Filed Under: