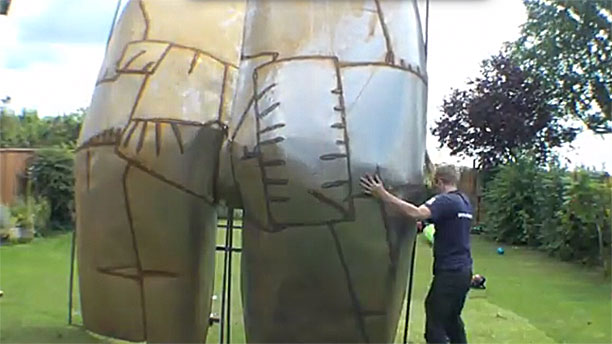 It is probably best, when reading this story and watching the accompanying media, not to spend too much time wondering at the motivations of the people involved. Let the facts speak for themselves, do not ask why, for there are no satisfactory answers beyond a simply stated "because."
Colin Furze is an inventor. He likes to make things just to see if he can. In the past, such things have included hoverboots, a supercharged mobility scooter and some mechanical claws, like those of Wolverine in the X-Men movies.
Naturally this makes him something of a noisy neighbor, but rather than spend his time building a perfect soundproof workshop, he got to thinking about whether you could make a noise that was loud enough to be heard across the English channel. And then he remembered that valveless pulse jets make a noise that is not unlike flatulence—he already made his own pulse jet, of course—it's just far, far louder.
From there, it was only a short hop to the conclusion that what he needed to do is build a 16ft high metal bottom to house a particularly big pulse jet, and then take it to a concrete beach in Folkestone, 21 miles across the channel from France, where, to quote Monty Python, he can fart in their general direction.
Here he is explaining the project and making the mechanical bowels:
And here he is making the bum.
The event takes place at 6pm GMT (that's 1pm EDT) today. And you'll no doubt be able to see footage on his YouTube channel shortly afterwards. That's if he hasn't caused an international incident in the meantime, of course.
See more:
Couple Create Magical 'Harry Potter' Wedding
A British Man Lives Life Like It's 1946
5 Great British Sprites For Fairy Day
WATCH: British Man Leads a Train Sing-Along
Read More
Filed Under: