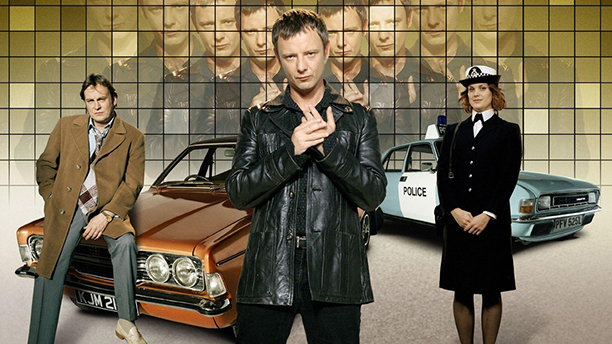 Comic-Con International: San Diego, July 24 to 27, is in full swing with Benedict Cumberbatch's debut at the fan-filled festival, Life on Mars and BBCA's Intruders' John Simm making an appearance on Friday evening and live Tweeting from our end with real-time updates. The TARDIS won't be landing at Comic-Con this year, but you can catch up with Doctor Who on Hulu.com here. If that's not enough to keep you tied up, here are five other sci-fi programs you can watch online:
1. Life on Mars
Manchester police officer Sam Tyler (John Simm) is hit by a car in 2006, and when he wakes up it's 1973. He's working in the same police headquarters, but he's a rank lower. He's not sure if he's dead, dreaming, or has actually traveled in time. The audience is left in the dark too.
2. Survivors
The world's population is nearly wiped out when a plague is accidentally released. A handful of people struggle to stay alive as they come to the realization they are the last of an entire civilization.
3. The Tomorrow People
This 1973 sci-fi show revolves around children who go through a "breaking out" process and become people of tomorrow with special abilities like telepathy, telekinesis and teleportation. The show has recently been remade by the CW airing in the U.S.
Watch The Tomorrow People on Amazon Instant.
4. Prophets of Science Fiction
British director Ridley Scott examines the fine line between science fiction and reality in this documentary.
Watch Prophets of Science Fiction on Netflix.
5. Red Dwarf
Well, this would be jarring: Dave Lister (Craig Charles) goes down for a nap of sorts, waking up to find out he's the only surviving human. He's been in suspended animation for three million years, and is traveling into deep space with a cast of characters. The ship's computer Holly (voiced by Norman Lovett in seasons one, two, seven, and eight and Hattie Hayridge in seasons three, four and five) creates a hologram of Lister's former supervisor (Chris Barrie) to keep him company, and sane.
Which show will you watch first? 
See More:
10 Sci-Fi Franchises Influenced by 'Doctor Who'
Anglophenia at San Diego Comic-Con: Follow Us on Twitter
10 British Things About San Diego, CA
Read More
Filed Under: