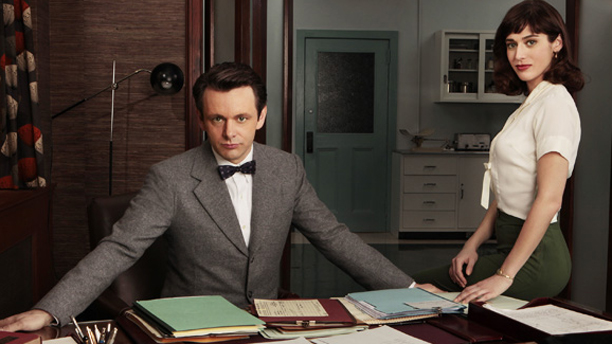 Showtime's Masters of Sex, starring Michael Sheen (Twilight), makes its return with the second season premiering on Sunday, July 13 at 10pm Eastern. Sheen plays Dr. William Masters, starring opposite Lizzy Caplan (Party Down) as Virginia Johnson, with the two exploring and documenting human sexuality for the first time on a scientific level in a clinical environment.
Masters of Sex is an introduction into sexuality for many of the participants, something that wasn't necessarily talked about in the late 1950s when the show takes place. Fast-forwarding a bit, we've selected a handful of British (and Irish) actors, who are in fact aware of their sexuality and don't need any teaching, as seen in some of their more risqué performances below:
1. Young Adam
Ewan McGregor plays a drifter, who finds a job on a barge to keep himself busy. The captain's wife (Tilda Swinton) finds she fancies him. She suggests that he do something more interesting to pass time than work on the barge … and he takes her up on the "offer."
Watch Young Adam on Amazon.com Instant.
2. Filth
James McAvoy takes on the role of Bruce Robertson, who is described as a "pervert," "alcoholic," "rude," and  "cop." That's an interesting combination. Robertson joined the force because of "police oppression." But, not to be confused, he didn't want to stop the oppression, but to take part in it. He's looking for a promotion, but boozing and womanizing are getting in the way.
Watch Filth on Amazon.com Instant.
3. Don't Look Now
This very adult horror-thriller follows a married couple (Donald Sutherland and Julie Christie) who take an Italian holiday after the loss of their child. But the 1973 adaptation of a Daphne Du Maurier is perhaps best known for its graphic sex scene that many viewers thought was unsimulated. (Sutherland vehemently denies it.) The film was named the greatest British film of all-time by Time Out London.
Watch Don't Look Now on Netflix.
4. Obsessed
Idris Elba is a happily married man (why wouldn't he be, he's married to Beyoncé), who is successful in life and work. He befriends a female temp in his office (Ali Larter). She misconstrues his friendliness for flirtiness. He brushes off her advances, but it just makes her try harder.
Watch Obsessed on Amazon.com Instant.
5. My Summer of Love
Emily Blunt and Natalie Press portray two young girls who have an undeniable attraction to each other. Their connection is broken when Blunt's character catches the eye of her lover's brother (Paddy Considine). This takes sibling rivalry to a new level.
Watch My Summer of Love on Netflix.
Which actor do you want to have a summer fling with? (We won't tell!) 
See More:
Brit Binge Watching: Five Steamy Films You Can View Online
Watch: Warm Up with Heated Scenes from British Costume Dramas
Snapshot: 10 Sweet Smooches From Celebrity Brits
Read More
Filed Under: