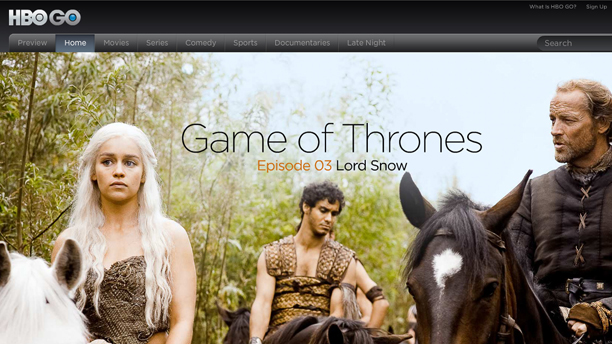 HBO GO is streaming TV at its finest with close to 50 British TV shows and films available for viewing online and on your phone via the HBO GO app. If you're an HBO subscriber you can provide your details and sign up easily here. Also, since HBO's partnership with Amazon, some of these titles are available on Amazon Prime.
We're all missing Game of Thrones, but that doesn't mean we need to twiddle our thumbs waiting for winter to come. So, go:
TV Shows:
1. Parade's End
Sir Tom Stoppard adapts Ford Madox Ford's novel into a five-part miniseries revolving around a love triangle during WWI. The period drama stars Benedict Cumberbatch, Rebecca Hall, and Adelaide Clemens.
More on Parade's End via HBO.
Watch Parade's End on Amazon.com Prime.
2. Doll and Em
Dolly Wells and Emily Mortimer are close friends in real life, but the scripted series is just that, definitely scripted. Mortimer plays a successful English actress who is landing leading roles in Hollywood. Wells, on the other hand, is back home and a complete basket case following a terrible breakup. Mortimer gives her a pity job as her assistant in la la land.
https://www.youtube.com/watch?v=o-Cs5fNOU1M&feature=kp
3. Family Tree
Chris O'Dowd plays a 30-year-old man who is in between jobs and girlfriends. In other words, he's broke and lonely. He inherits an unexplained box from a great aunt he never knew. The belongings trigger something inside of him, and he wants to find out more about his family lineage taking him on some quirky adventures. He doesn't go it alone, with Tom Bennet and Nina Conti co-starring as his supportive, not always helpful, wingmen.
More on Family Tree via HBO.
Watch Family Tree on Amazon.com Prime.
4. Five Days
This five-part series is made up of five non-consecutive days of a police investigation into a missing mother and her two children. The mum went missing first, leaving her two young children in the car. The little ones wander off, and the audience, and her family, have no clue what happened. The series stars Christine Tremarco, Penelope Wilton and Rory Kinnear.
More on Five Days via BBC One.
5. Little Britain USA
Matt Lucas and David Walliams' bring their zany comedy-sketch show to the U.S. thanks to HBO. The duo has imported some of their original characters like Lou and Andy and are shaking things up with some new faces.
More on Little Britain USA via HBO.
Watch Little Britain USA on Amazon Prime.
Movies:

1. Anna Karenina
Stoppard adapts Leo Tolstoy's novel of the same name, revolving around a Russian aristocrat, Anna Karenina (Keira Knightley), who strays from her marriage, ultimately ruining her. The film also stars Jude Law and Aaron Taylor-Johnson.
More on Anna Karenina via HBO.
Watch Anna Karenina on Amazon Instant. 

2. As You Like It
Actor Kenneth Branagh gets behind the camera directing the film adaptation of William Shakespeare's play by the same name. The story is relocated to Japan, but follows the original story of Rosalind (Bryce Dallas Howard), who flees persecution, seeking refuge in a forest. One of Shakespeare's most recognizable lines, "All the world's a stage," comes from this play.
More on As You Like It via HBO.
Watch As You Like It on Amazon.com Instant.

3. The History Boys
Alan Bennett adapts his Tony Award-winning play into a feature-length film revolving around a group of teenage students, with the guidance of two eccentric teachers, and their quest to advance to university. The film stars James Corden, Dominic Cooper, Russell Tovey, Samuel Anderson, Richard Griffiths and Stephen Campbell Moore.
More on The History Boys via HBO.
Watch The History Boys on Amazon.com Instant. 

4. Notes on a Scandal
Dame Judi Dench and Cate Blanchett star in this film about friendship and betrayal. Dench takes on the role of a seasoned teacher who envies her younger coworker, played by Blanchett. When the older teacher discovers Blanchett's character is having an inappropriate relationship with a 15-year-old student, she uses it to her advantage.
More on Notes on a Scandal via HBO. 
Watch Notes on a Scandal on Amazon.com Instant.
5. The Special Relationship
This political drama depicts the "special relationship" between Tony Blair (Michael Sheen) and Bill Clinton (Dennis Quaid) leading up to their elections into office and the allegiance that continued.
More on The Special Relationship via HBO.
Watch The Special Relationship on Amazon.com Prime.
What are you going to watch first? 
See More: 
Brit Binge Watching: If You Like the British Actors in 'Game of Thrones' …
Brit Binge Watching: Five Detective Series You Can Stream Online
Brit Binge Watching: If You Like 'The Ladies of London' …
Read More
Filed Under: