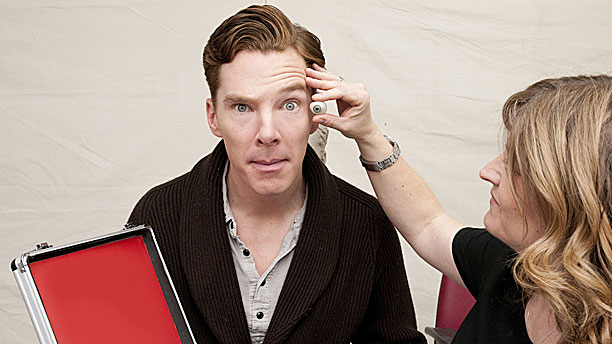 There aren't many people that can spend the run-up to their birthday having their eyeballs matched, but such is the increasingly surreal life of Benedict Cumberbatch. The Sherlock star has been visiting the London waxwork museum Madame Tussauds so that the sculptors and artists working on his first model can take vital measurements and get the color of his eyes right.
And of course, being a game sort of fellow, he entered into the spirit of things with notable enthusiasm.
He said: "What a weird and wonderful compliment to be included in the ranks of talent already committed to wax. I've been accused of being wooden in my work but never waxy.
"The main privilege for me was the process and seeing the amount of exacting work and skill brought to every detail of this art form. It is a wonderful combination of old and new, high-tech and lo-fi skills. Measurements, hand inserted individual hairs and sculpted features.
"As a subject, you stand still surrounded by sculptors, painters, photographers, measurers and a whole army of people who bring together your likeness… it's an extraordinary experience.
"It's an extraordinary experience. Also my agents will be thrilled, they've wanted a clone of me for some time."
Benedict's waxwork—which will be dressed in a sharp dark suit, as if attending a premiere—will be unveiled in October.
Ben Sweet, Madame Tussauds London's general manager, said: "Our guests made it very clear they wanted to see him in the attraction, and we can't wait for them to meet his figure later this year."
And the last, best word goes to Benedict: "Finally I can photobomb myself!"
See more:
Batmannequin: Christian Bale's New Waxwork Is Unveiled
Louise Brealey on Kissing Benedict Cumberbatch: "I Milked It!"
Adele's New Waxwork Is Revealed!
Emma Watson And The Nine Scary Waxworks Of Doom
Read More
Filed Under: