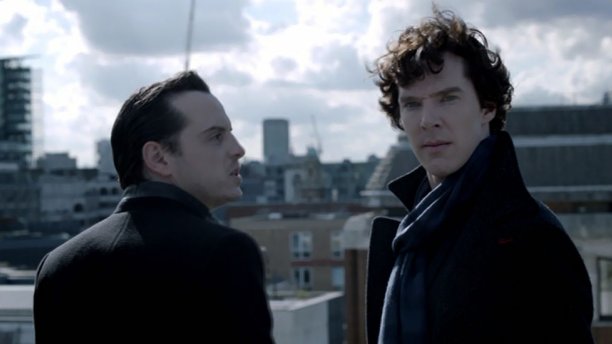 Benedict Cumberbatch managed to get through two entire public panels at last weekend's San Diego Comic-Con and only answer a single, and very brief, question about Sherlock — but away from the main stages, the actor was a little more forthcoming in talking about the future of the show.
In an interview with MTV recorded backstage, Cumberbatch expressed his excitement at returning to film a one-off special followed by a fourth season of three episodes. "I'm ridiculously excited about it," he said, "because the whole purpose of us doing it again is that we can do it better than we did it last time. And the pitch for this series is so exciting."
Asked whether he's already been given advance information about how the series will play out, Cumberbatch admitted that while often given an overview of the show before getting the scripts, he "casually [chooses] to forget in order to rediscover it again later". He did, however, address the heavily-teased potential return of Andrew Scott's Moriarty, and the way in which writers Steven Moffat and Mark Gatiss might bring him back. "I do know that detail. It's a very good idea! I'm just trying not to remember it so I don't accidentally blurt it out…"
In a separate clip, Benedict was also asked whether his character Khan might ever make a return to the Star Trek movies, answering with a somewhat non-committal "Maaaaaybe!" Explaining that Khan is "in a freezer… and, well, we've all defrosted chicken in our time," Cumberbatch did however suggest that no firm plans have been discussed, and that while possible, it would depend on what direction the film series is taken in next.
Sherlock begins filming again in January 2015. There's no confirmed air date yet, but we're hoping to see the special before the end of next year.
How do you see Moriarty returning to the show? Do you think it will work?
See more:
10 Best Moments from Benedict Cumberbatch's Comic-Con Debut
WATCH: Benedict Cumberbatch in 'The Imitation Game' Trailer
Surprise! A 'Sherlock' Special And Series 4!
Read More
Filed Under: