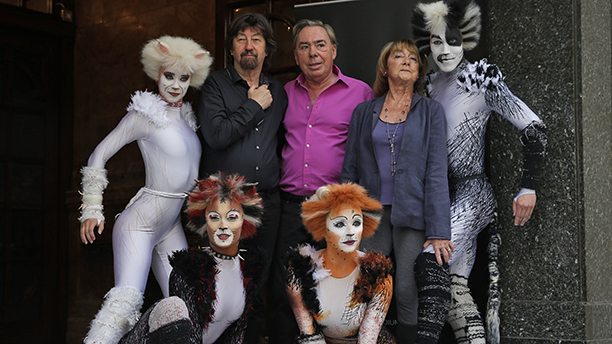 This brings back memories.
Remember when Andrew Lloyd-Webber's Cats was the longest-running musical in London's West End and on Broadway? Well, it's back, reports BBC News.
The production is returning to Lloyd-Webber's hometown of London for a limited 12-week production at the London Palladium with tickets going on sale today. The production begins on December 6, 2014.
Lloyd-Webber says the show changed his life, so he thinks the show itself deserves a second life telling BBC News, "It'd be great to have it for another generation."
You can watch the entire interview with BBC News here.
Cats, based on T.S. Eliot's Old Possum's Book of Practical Cats, premiered in the West End in 1981, running for 21 years, with over 9000 performances; and premiered on Broadway in 1982 and ran for 18 years.
Lloyd-Webber is reuniting with original director Trevor Nunn and choreographer Gillian Lynne.
Nunn sat down with BBC News saying he hopes original fans of the show come back to see it saying, "How wonderful. It's our beloved show all over again, and we got just the same experience." Of course he hopes for newcomers and predicts their response being something like, "'But it feels so new and so contemporary.'"
Here's is one of the most recognizable songs from Cats, for new and returning fans:
The team maintains the original story, but plans to tweak the revival a bit to make sure the humor and references are up to speed.
Did you see Cats during its original run?
See More:
London's First Cat Café Opens
What Are Brits Watching: 'The Secret Life of a Cat'
Sheffield Man Sets Up "Cat Cam" to Film Escape

Read More
Filed Under: