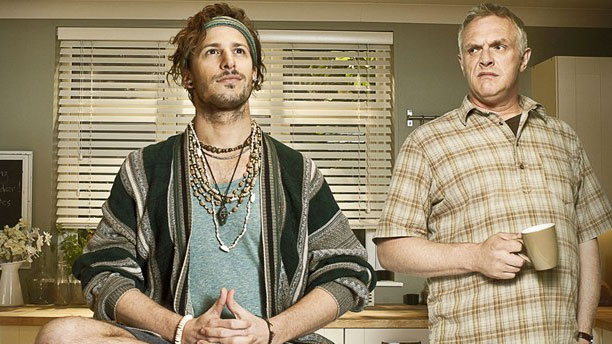 At the moment, it is relatively commonplace to see British stars infiltrate American TV shows—from Damian Lewis in Homeland to Hugh Laurie in House to Karen Gillan in Selfie—but it's rarer to come across an actual famous American actor in a British TV show.
The reason for this is fairly clear: Hollywood has traditionally been considered the pinnacle of success, so why would anyone want to leave? But as film and TV productions become more international, things are loosening up all over, as our first example proves:
Maggie Gyllenhaal in The Honourable Woman
Yeah, that's right. She's doing the accent and everything. That's a goal for America.
Andy Samberg in Cuckoo
Andy's involvement in this hugely popular BBC3 sitcom was a real coup for the production team, who wanted a guy to play a charming hippy with no boundaries against Greg Davies' uptight Brit. Sadly, Andy's commitment to Brooklyn Nine-Nine, among other projects, have prevented him from making a return, and a new role has been written for series two to be played by Taylor Lautner.
EDIT: The trailer for series two has arrived. It's here.
Robert Vaughn in Hustle
Because why else would you get an American into a British drama if they weren't going to try and do a Cockney accent?
Jeremy Piven in Mr. Selfridge
A charismatic performance from a charismatic man whose chief role in this drama is to rise above an entire shopful of petty squabbling about class and window displays.
Tony Curtis in The Persuaders
https://www.youtube.com/watch?v=DegsAsw1X3w
Another variation on the odd couple theme, with Roger Moore providing the upper crust reserve (and none of Greg Davies' middle class fury) and Tony acting the all-knowing American action man. In odd socks.
Ben Stiller in Extras
In which Ben Stiller plays the Ben Stiller character from his Ben Stiller movies only this time he's actually called Ben Stiller because he is supposed to be Ben Stiller playing a fake version of Ben Stiller, not the real Ben Stiller. Ben Stiller.
David Soul in Inspector Lewis
Still fondly remembered from his days on Starsky and Hutch, David came to the U.K. to work, and has appeared in a few British productions here and there. He had a recurring role in the hospital drama Holby City, he played the title role in the televised version of Jerry Springer: The Opera, and he joined the cast of this Inspector Morse spin-off.
Gillian Anderson in The Fall
The Fall is the fifth major British TV drama that Gillian has worked on, after Any Human Heart (in which she played Wallis Simpson to Tom Hollander's Edward VIII) and BBC adaptations of The Crimson Petal and the White, Great Expectations and Bleak House. And again, the accent is flawless, as one would expect from someone who lived in the U.K. in early childhood.
Shirley Maclaine in Downton Abbey
It's hard to know which side of this particular team-up got the best deal. Certainly Downton has benefited from another venerable old battleaxe to play against the Dowager Countess, and with Martha Levinson being American, there's a sense that she's in some way beyond the elder woman's barbs. Or at least ready to do battle. For Shirley, it's a chance to appear in one of the most popular TV shows in the world and play opposite Dame Maggie Smith. Everyone wins.
See also: her onscreen children played by Elizabeth McGovern and Paul Giamatti.
Connie Booth in Fawlty Towers
The great thing about Connie's appearance as Polly is that she's the inverse of Andy Samberg in Cuckoo. She's the only sensible one in a hotel full of British lunatics, led by King Lunatic himself, Basil Fawlty. It's also interesting to note that John Cleese's two most successful television shows were collaborative efforts with an American talent. Connie co-wrote Fawlty Towers, and of course Terry Gilliam provided the linking cartoons and the face of (among others) Cardinal Fang in Monty Python's Flying Circus.
Honorable mentions should also go to:
Martin Landau and Barbara Bain in Space: 1999
Robert Wagner in Colditz
Joe Don Baker in Edge of Darkness
Patrick McGoohan in The Prisoner
Eric Mabius in Outcasts
Sharon Gless in The State Within
Ruby Wax in Absolutely Fabulous
Stuart Milligan in Jonathan Creek, Doctor Who
Robert Gant in Personal Affairs
Non-acting roles
will.i.am in The Voice
David Hasselhoff in Britain's Got Talent
Kelly Rowland and Nicole Scherzinger in X Factor

See more:
WATCH: First Teaser For 'Downton Abbey' Season Five
Terry Gilliam: "Monty Python Have Sold Out"
WATCH: Gillian Anderson and Jamie Dornan in the Trailer for 'The Fall' Season Two
Read More
Filed Under: