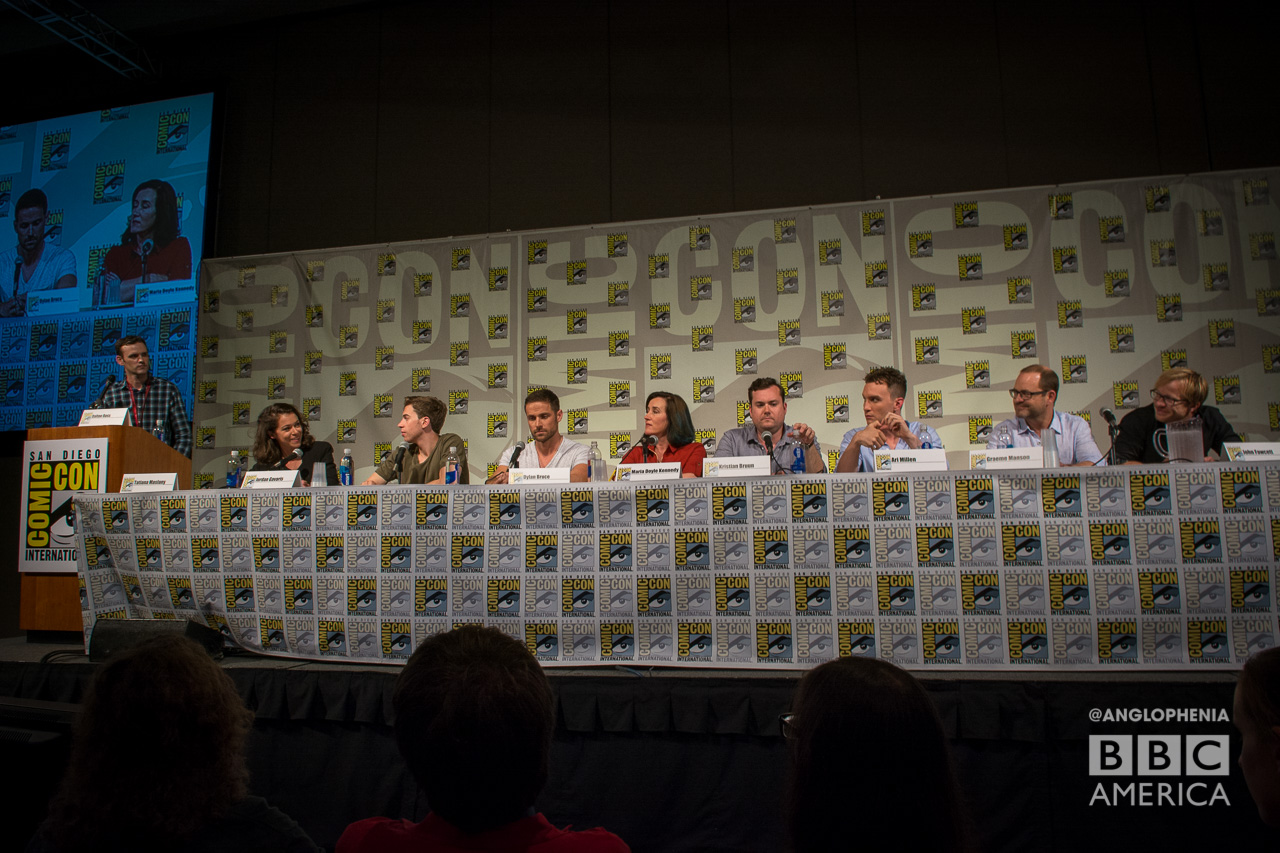 Orphan Black's popularity skyrocketed in Season 2, and the turnout and enthusiasm in the audience at the series' San Diego Comic-Con panel more than demonstrated the BBC AMERICA thriller's success. Here were some of the best moments from last night's panel (July 25).
1. Orphan Black star Tatiana Maslany's standing ovation when she emerged on stage.
2. When asked if we'll ever see the backstory of Beth, the police officer clone whose death kicked the plot of Orphan Black into motion, co-creator Graeme Manson responded, "Nothing is off the table. I think there's a chance that there's a twist on Beth that we don't know quite yet." John Fawcett added, "We're both fabulously interested in Beth's story, and, at some point, there's a definite chance that we may see Beth."
3. Graeme and John were so taken with Ari Millen, the actor who plays creepy Prolethean Mark Rollins, that they reversed a decision to have him die at the hands of Paul (Dylan Bruce) and cast him as the set of a male clones, who were revealed in the Season 2 cliffhanger. Ari observed the filming of the technically ambitious Clone Club dance party in the season finale to get a sense of what he was in for. Asked if he went to Tatiana for pointers, Ari responded, "Tat's one of the most generous actors out there. I know if I have any questions, she'll be there."
Fantastic cast! @OrphanBlack #SDCC @BBCAMERICA pic.twitter.com/BQZODzEf8P

— Ari Millen (@AriMillen) July 26, 2014
4. Tatiana Maslany says she'd love to continue the story of Tony, the female-to-male transgender clone who appeared late in Season 2. "I'd love to explore Tony again. He just offers so much as far as gender identification and expression, and our show's about that, about how individuals express themselves. He's so singular, with his mullet. I've never seen that guy on screen, and I've never read that guy on the page. I'm so excited by him and the interaction with Felix."
As far as the divided response to him, Tatiana said, "'Polarizing' is the only way we're going to start talking and understanding each other."
Maria Doyle Kennedy, who plays Mrs. S, said, "Having the debate be polarized is better than having no debate at all."
Jordan Gavaris, who plays Felix, summed it up well, "When something makes you uncomfortable or makes you think, why is that such a bad thing? As long as it moves you in some way, that's artistic, and we've accomplished exactly what we set out to do."
5. To make up for Tatiana Maslany's shameful absence of an Emmy nomination, the Clone Club on Facebook offered her this award: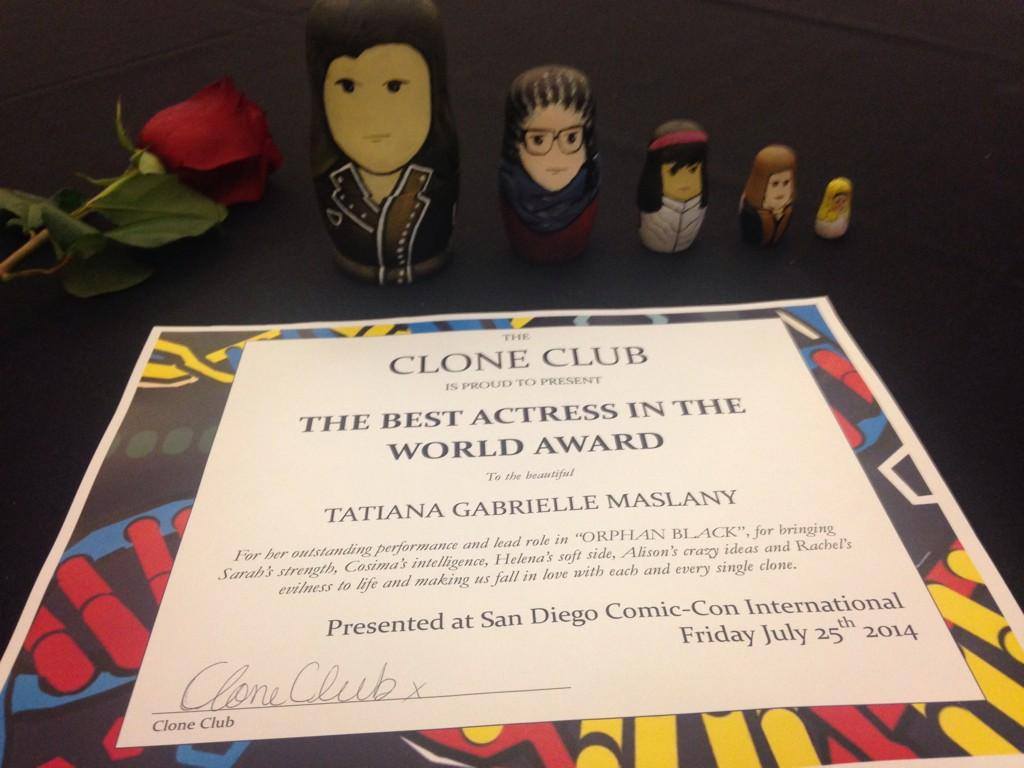 And as you can see above, the fan generosity didn't stop there: Tatiana received a set of Russian nesting dolls representing the clones, which absolutely delighted her.
6. During the Q&A section, a young gay woman stepped forward, revealing that, before she started watching Orphan Black, she was really in the closet and ashamed of her sexuality. "I hated myself," she said. But it was through watching the show with her family and seeing Cosima, the openly lesbian scientist clone, that made her find self-esteem.
"My parents weren't OK with me being gay, and I watched the show with my mom, and it's helped us rebuild our relationship because she sees Cosima," she said, "and she sees that it's OK and that people are more than their sexuality. And I wanted to thank you for that." The heartfelt testimonial left Tatiana speechless and a bit choked up, as were most of the audience, to be frank. A truly nice moment.
7. One #CloneClub member on Twitter asked where Cosima's parents are in their daughter's time of need. Which prompted several responses, including this one:
Q: Where are Cosima's PARENTS? A: @tatianamaslany "They don't own a car. They are walking to her very slowly." #OrphanBlack #SDCC

— Orphan Black (@OrphanBlack) July 26, 2014
8. All of which led to a discussion of Graeme and John revealing that they were thinking of casting Alison's mother. The entire cast, almost in unison, screamed, "Catherine O'Hara!" (Can you imagine? Catherine O'Hara was born to play an uptight, Type A, boozy monster mom.)
9. Kristian Bruun, who plays the bumbling yet badass Donnie Hendrix on Orphan Black, said he'd run into Patrick J. Adams, the Suits actor who guest-starred as Helena's trucker-hat-wearing love interest Jesse in Season 2. Bruun revealed that Adams was interested in reprising his role. And, of course, there was this tweet during the panel from Mr. Adams himself:
"@anglophenia: .@TheBruun says @halfadams told him that he wants to come back. #OrphanBlack #SDCC" if they ask. I'm there

— Patrick J Adams (@halfadams) July 26, 2014
Wake us when it's 2015, and Season 3 is on there, right?
See more:
'Star Wars Rebels' SDCC Panel: 10 Quotes to Hearten Longtime Fans
10 Best Moments from Benedict Cumberbatch's Comic-Con Debut
Read More
Filed Under: