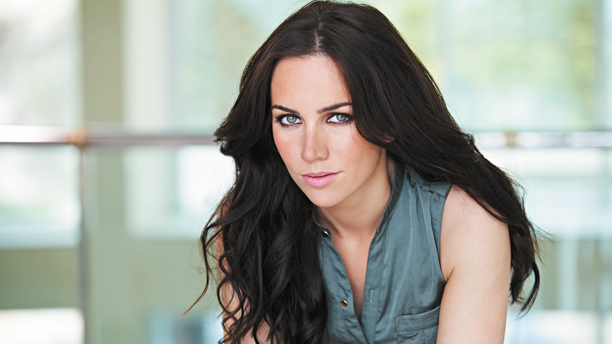 Every year, thousands of Brits move permanently to the U.S., while even more spend some time here as part of their jobs, racking up the air miles while crisscrossing the Atlantic or being temporary residents and still calling the U.K. "home."
Olivia "Liv" Boeree might still be a resident of London, but she spends an average of two of three months a year "living out of a suitcase" in the U.S. And her vocation might strike some as very unusual; she's a professional poker player.
"I spend each summer in Vegas, but I've also spent a lot of time in L.A," she says. "I've also been to all four corners of the U.S. quite a few times and am familiar with most of it—there are only a few States I haven't visited. I really feel that the U.S. is my second home."
Originally from Maidstone in Kent, the 29-year-old first visited the U.S. in 2006 for the World Series of Poker in Las Vegas. "I was very new to the game and didn't really play much poker, so it was more of a vacation," she says. "However, I got to meet many of my poker heroes and it gave me even more of a drive to become as successful and famous in the poker world as I could. I wanted to be at the top of the game like they were."
Boeree first became interested in poker just a year before, when she had moved to London after graduating from the University of Manchester with a degree in Astrophysics. She had answered an advertisement looking for contestants on a secret reality TV show called UltimatePoker.com Showdown.
The secret was that the selected few were going to be taught to be top poker players by three of the U.S.'s biggest poker stars at the time, Phil Hellmuth, Dave Ulliott and Annie Duke. Liv confesses that she "fell in love with the game instantly."
Boeree worked (and continues to work) as a television presenter and model. But, in 2008, she had a first taste of poker success when she won the Ladbrokes European Ladies Championships. When she then qualified for a World Poker Tour event, it was time to make a choice. "I couldn't get the time off my 9-5 job," she says, "so I made the decision to quit and go. After that, I never looked back. I had some moderate success for the next year or so, but my huge break came when I won the European Poker Tour in San Remo, Italy in 2010 for $1,650,000."
Aside from the big money, Boeree says that the victory "catapulted her" into the headlines of both mainstream and poker media because few women had ever won tournaments of that size. "Sadly we are still underrepresented in the game," she says, "and in major tournaments women usually only make up five to 10 percent of the entries. However, that is changing, and I've been seeing more and more women taking up the game and doing very well."
There are lots of Brits on the world poker "circuit"—including some she describes as "truly world class"—and there's a huge amount of camaraderie among her fellow traveling players.
"A lot of my best poker friends are American or Canadian," she says. "They're some of the most well-rounded and wonderful people on the circuit." However, she adds, "The thing that I love about the British [players] is that they always find a way to have fun, no matter the location. We love to party!"
Of course, that all changes when they sit down at the green baize and the cards are dealt: "There's no soft play," says Boeree. "It is very cutthroat!"
Like touring musicians, poker players rarely can stay in one place for long. "I would describe most tournament poker players as nomads. No matter where we originally come from, we are people of the world. I've been to every continent except Antarctica and whilst I've never formally lived anywhere else, I've spent more than enough time on the road to know what it's like to try to live in a strange country."
Poker has grown in popularity over the past decade, and professional players, like famous athletes, have sought to augment their earnings through endorsements and building their "brands." Boeree is no different; she notes the importance of a social media presence. (She's, of course, on Twitter.) And, after her 2010 win in Italy, she was asked to join the prestigious Pokerstars Team Pro, an online poker site with 50,000,000 registered users and the driving force behind the recent boom; they sponsor events, tournaments and players, including Liv. "I was so glad they saw my potential as a brand ambassador," she says. "I'm still with them today three years later, and I love everything about it."
With so much traveling and a job that involves meeting so many new people, does she have any advice for newly arrived expats in the U.S.?
"Firstly, be brave and make friends!" she offers. "If you're alone, go to a bar that has good reviews and get chatting to whoever seems friendly. Americans love Brits. I have yet to find an American who wasn't interested in my accent and life in Europe."
In addition, she says, "Go out and experience the nature of the U.S. It has so much to offer and will make you feel instantly at peace with your new home. Be respectful and help to preserve it too. Caring about somewhere is the best way to make it feel like home!"
Even though she calls the U.K. a "beautiful place," it's the wilderness that she loves most about the U.S. "Our [British] climate doesn't have much variation," she says, "and there's just not enough open space any more. I'm a huge geography nerd, and the U.S. has almost every geographical feature you can think of, from volcanoes to deserts to swamps to huge mountains."
It's no surprise to learn that outdoor adventurer Bear Grylls is her hero, and her future might not be all about poker, as she's looking to make further moves into television. In the autumn, she is one of the four experts on a new Discovery show called The Mind Control Freaks, which showcases the inner workings of the human psyche. A UK-produced show, it also features a magician, a hypnotist and a sleight-of-hand pro, and they use psychological tricks and mind manipulation on members of the public.
And she says, "I've also started acting classes too. It's something I've always wanted to try, and they are going very well so far. I'd love to have a role in a television show like Game of Thrones, or anything where I can play a kick-ass, strong female character!"
Either way, the poker is still paying off. She had a good start to the year, finishing second in a UKIPT event in February and taking home $97,000. And this month also sees her 30th birthday—and a special journey.
She says, "I'm planning a road trip across some of the western U.S. to Yellowstone Park, which will be incredible I'm sure!"
See more:
9 Ways for Brits to Style Their Homes Like Americans
#MindTheChat Recap: Where to Travel in the U.S. This Summer
12 Places to Call in a Stateside Emergency
Read More
Filed Under: