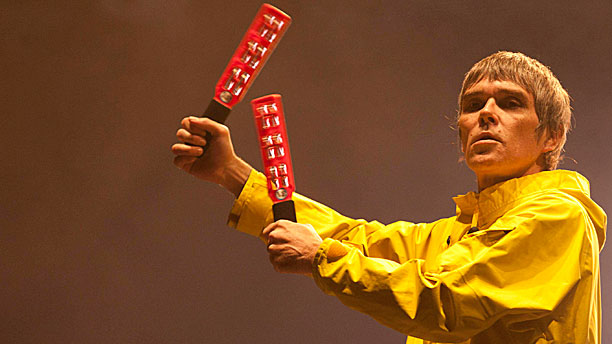 Earlier this year the British music press was full of features about the 20th anniversary of Britpop—the British musical renaissance kicked off by Suede, given shape by Blur and then puffed up beyond all recognition by Oasis. But one of the most interesting things about those times is that there is still a fairly rabid audience for a good deal of those bands. Rabid enough to encourage all but the most stubborn to put their breakups to one side and get their particular show back on the road.
Here are 10 examples:
Blur
Having been relegated from the top of Damon Albarn's to-do list over the last year or so, don't expect to see Blur rocking up to your town with any undue haste, but don't count them out either. After the reunion tour of 2008, and successive gigs up to 2013—including this one at the end of the 2012 Olympic Games—all the rifts seem to have been healed and the door to future musical happiness appears to have been left wide open.
James
A band who never made a great show of going away and then coming back again, James are still making records and touring in as thoughtful and melodic a fashion as always. In fact their latest album La Petite Mort comes out on September 16 in the U.S.
Pulp
Another band who split up, then reformed even bigger than before, Pulp have had a great year: their documentary Pulp: A Film About Life, Death and Supermarkets—which documents their 2012 farewell concert in Sheffield, with lots of input from the natives—has received blanket praise and cements Jarvis Cocker's status as the nation's favorite pervy beanpole pop star. Don't expect this to be the last we've heard of them.
Manic Street Preachers 
A band who never left, and show no signs of doing so now. This year the Manics released Futurology, an album that suggests there are still plenty of windmills for them to tilt at.
Suede
Having dissolved their torrid affair in 2002 amid lurid tales of drugs and ego run rampant, no one expected to see the lithe, erect Suede strut the stage again. But after Brett Anderson and original guitarist Bernard Butler put aside their differences and made an album as the Tears, it became clear that some of the more monstrous aspects of their reign of terror were being quietly put aside. Bernard refused to take part in any reunion, as he disagrees with bands getting back together on principle, but Suede Mark 2 have been Suede Mark 3 since 2010, and released a fondly-welcomed album, Bloodsports, last year.
The Stone Roses
The Stone Roses may not have become famous during the Britpop era, being Madchester through and through, but they made their return after a long hiatus during the Britpop how-do-you-do, having been praised to the skies by Noel Gallagher of Oasis. Plus it's widely thought that the Roses' one-day festival at Spike Island was an inspiration to the next generation of bowl-headed retro-rockers. Mind you, there are dark rumors that their particular bandwagon has already hit the skids, despite a fairly ecstatic response to Made of Stone, Shane Meadows's documentary about their first reunion gigs.
Kula Shaker
If Blur were McCartney and Oasis were Lennon, Kula Shaker were the George Harrisons of the Britpop party. Heavily influenced by Indian music, their debut album K was a reawakening of that moment in the '60s when groovy pop got a bit giddy on sitars and began to take itself incredibly seriously. Still fronted by Hayley Mills's son Crispian, still plowing their psychedelic furrow.
The Charlatans (or Charlatans UK)
The Charlatans are a band who've had to face far more beatings from the fate stick than any group should ever have to bear. The death of keyboard player Rob Collins in 1996 was bad enough, but they also lost drummer Jon Brookes in 2010 to a brain tumor. And yes, they will endure, somehow.
Menswe@r
This helpful video explains exactly a) who Menswe@r were and b) who they are now. It does not explain the emailish @ in their name, but believe you me, it was there.
Ocean Colour Scene 
Guitarist Steve Cradock may still be splitting his time between the Scene and Paul Weller's backing band, but they're always ready to come and bust out "The Day We Caught The Train", "Hundred Mile High City" and "The Riverboat Song," the riff of which was—what's the word, namechecked? Purloined?—by Arctic Monkeys for "A Certain Romance."
See more: 
WATCH: Pulp and the Reunion Documentaries of Britpop
Five Reasons Ray Davies Deserves All of the Songwriter's Awards
Personality Quiz: Which Member of the Who Are You?
Five Songs That Contributed to the Moral Decay of Great Britain
Read More
Filed Under: