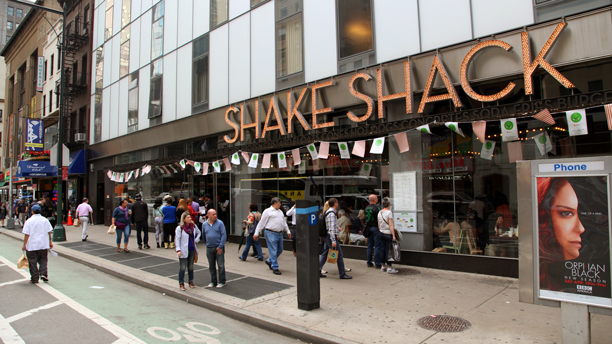 The U.S. is home to an estimated 160,000 fast food restaurants stuffing 50,000 customers full of meat, cheer and saturated fat every single day. I'm guessing many of them are bedazzled British expats who secretly can't get enough of America's scrumptious cheap fare.
In-N-Out Burger
If you've spent time in California, Nevada, Arizona, Utah, or Texas, I don't need to explain to you why this chain is on my list. Those fries… oh my. The burgers may be small compared to their rivals' offerings, but they're unreasonably delicious. As a New Yorker, I regularly cry myself to sleep over the fact that I live thousands of miles from the nearest branch.
Why you'll hate that you love it: When you're there, you'll eat like a pterodactyl after a 10-day detox.
Shake Shack
We New Yorkers may not have access to In-N-Out, but this shiny new chain is our recompense. The original branch was a hot dog stand in Madison Square Park. Those must have been some pretty special wieners for the business to grow into a seven-state operation in a mere seven years. These days, it's the burgers we covet: four-ounce blends of sirloin, brisket, and short rib. And don't even get me started on the sublime shakes.
Why you'll hate that you love it: It's places like this that convince you obesity and heart disease are worthwhile hazards.
Popeyes
This southern fried chicken joint can be equal parts revolting and spectacular. Which dish falls into what category depends largely on which branch you frequent, but the biscuits are reliably excellent.
Why you'll hate that you love it: You'll feel like you need to take a shower afterward. And, let's face it, their chickens probably didn't go to Harvard. Or outside. Ever.
Chipotle Mexican Grill
Their burritos barely count as junk, right? Or they wouldn't if you had the willpower to opt for the burrito in a bowl and utter the words: "Hold the sour cream and the cheese."
Why you'll hate that you love it: You'll find yourself thinking that it's economically feasible to eat here everyday instead of cooking food at your house.
Dunkin' Donuts
America runs on Dunkin', or so their powerful marketing machine would have you believe. I'll admit there's something filthy but great about plunging a whopping great ring of grease, sponge and frosted sugar into mediocre coffee.
Why you'll hate that you love it: One donut is never enough. You'll hit double figures before you're satisfied.
Five Guys
It's not Shake Shack or In-N-Out, but it still just about counts as high-end fast food. The fries are hot, crunchy and pretty much worth killing for. Best of all, you get to design your own burger.
Why you'll hate that you love it: Branches of Five Guys tend to be eerily quiet and utterly lacking in atmosphere. They are also a tad pricey.
White Castle
They put delightful little onions in the burgers. In fact, the patties are steamed over the onions. So don't bother if you don't like onions. Or buildings that look like they're constructed from white Lego.
Why you'll hate that you love it: It's the closest American equivalent to Britain's nearly defunct, reliably depressing but delicious burger chain, Wimpy. Remember them? They did the onion thing too.
Taco Bell
Look no further for Americanized Mexican food and mushy, anonymous but unspeakably delicious taco "meat."
Why you'll hate that you love it: You pride yourself on being cultured, but you secretly like Taco Bell more than real Mexican food.
Arby's
Piles of roast beef as far as the eye can see. Dead cow never looked or tasted so great.
Why you'll hate that you love it: Any pretense you had about one day becoming a vegetarian—or at the very least someone who only eats "happy" animals—goes out of the window every time you step into an Arby's.
Long John Silver's
Before they ditched trans fats, the seafood joint's "Big Catch" was "scientifically proven" to be the worst meal in America. Naturally, this made me want to try it immediately. So yeah, basically, it's fish and chips. Seriously, America? This is your best shot at killing me with a meal? Pur-lease.
Why you'll hate that you love it: Even post trans fats, their food will make you sweat pure oil and smell like day old crab.
Which U.S. fast food restaurants are your favorites? Any particular places you miss from home, U.K. expats? Tell us below:
See more:
10 British Flavors Americans Will Never Widely Appreciate
10 Strange Things Brits Find in American Supermarkets
10 American Foods Brits Will Learn to Love
Read More
Filed Under: