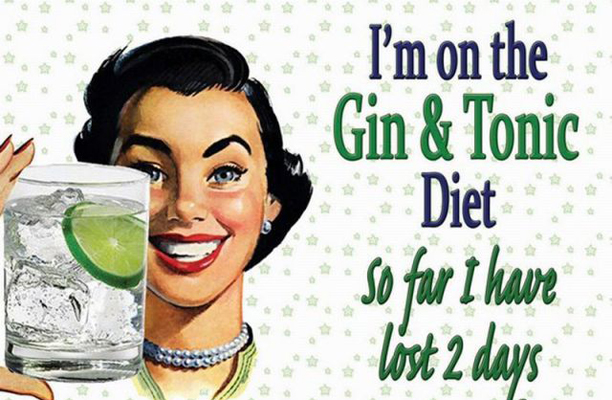 Gin is so universally popular that it's being recognized internationally on World Gin Day, Saturday June 14, celebrating "the junipery spirit that is gin" for the sixth year in a row. If you're looking for get-togethers to celebrate the herbal spirit, you can check out the World Gin Day Facebook page or official website.
Where did gin come from: Invented in Holland, gin was introduced to Britain when Dutch-born William of Orange took the English throne in 1688.
Not-so-fun-fact: Originally designed for medicinal purposes, the elixir was a little too popular when first introduced to London pubs during the 18th century, that it was coined "Mother's Ruin" due to the large amounts of consumption. It was the first time when women and men were elbow-to-elbow in public drinking establishments, and it's been said mums would get so tipsy that they'd forget to look after their children as depicted in English artist William Hogarth's engraving Gin Lane depicting a mother drunk on gin.
What is it actually: A distilled spirit that derives its flavor from juniper berries. London gin, or dry gin, differs in that it does not contain sweetener. Old Tom gin was the precursor to dry gin and is making a comeback. Gin is relatively inexpensive to produce, which adds to its appeal.
What gin should you be drinking: There are a number brands of gin, which Food and Wine whittles down to Five Gins for the Serious Gin Drinker. Our favorite is Broker's, admittedly, because it has a fun bowler hat as a cap.
How to British-up your gin cocktails: Gin is rarely served "neat" and is typically served with mixers. Here are some traditionally British gin drinks with a list of ingredients and basic directions to get you started.
Pink Gin
Pink Gin is served in a short tumbler glass, also known as an Old-Fashioned. It originated with the British navy, who used Plymouth Gin if you can find it. First you add a splash of bitters into the glass, roll it around so it sticks to the glass, and then pour out the excess. You pour in the gin (if you can't find Plymouth, use sweet gin), based on how thirsty you are, but we suggest "two fingers" worth and stir. You can check out a recipe and photo here.
Gin and It
You may have stumbled across drinks like the Gin and It being ordered in British detective novels. What's the "it" in the cocktail? The drink is made up of 2 oz. gin and 1 oz. sweet vermouth served in a cocktail glass (a martini glass or a wide mouthed champagne glass). You can check out a recipe here. It's typically not served over ice, but you can adapt the drink to your taste (possibly chilling it first in a shaker).
Hot Gin Punch
Hot Gin Punch was whipped up in Victorian London to intoxicate the masses. In those days, the cheapest English gin was made with turpentine, which might explain some people's reactions to the potent drink, but we'd stick to Hendrick's or Gordon's versus the toxic stuff. We highly suggest reading the step-by-step recipe here because it involves using a stove, but here's what you'll need: 1 lemon, juice and zest; 2 lemons, thinly sliced, any seeds removed; 10 oz. gin; 20 oz. mineral water; 6 0z. dark sherry; and 1/2 cup brown sugar (demerara). The punch serves four to five people (depending on how much you drink).
Cucumber-Rosemary Gin and Tonic
Gin and tonic was originally developed to fight malaria. It was discovered that tonic water contained an ingredient called quinine that fought off the disease, but tonic on its own was hard to get down. British soldiers introduced gin to the drink, which has seemed to have stuck. The G&T can be made with just the two ingredients, simple enough. As well, you can change it up like with this cucumber-rosemary drink that caught our eye. If you're not in the mood for a cucumber finger sandwich, then no need to waste the cucumbers, pop 'em in your drink! Here's the recipe.
Sloe Gin Fizz
Back in the day Britons flavored their gin with sloes (berries) that they picked from the hedgerows (long rows of bushes). The berries themselves aren't too tasty, so they were soaked in gin and sugar. I'm guessing you don't have hedgerows or sloes, so we can cheat a bit by purchasing bottled gin flavored with sloes like Plymouth Sloe Gin found here. The drink is a combination of sweet and tart made with 1 oz. sloe gin; 1 oz. gin; 3/4 oz. fresh lemon juice; 1 oz. simple syrup; and 3-4 oz. soda water (the fizz!). You can shake the ingredients with ice and then strain into a collins glass letting the drink fizz to the top; or, based on this recipe it seems like you just add the ingredients together and stir (that seems to be the more British way.)
Early Grey Martini
This is kind of a fun hybrid, mixing the posh world of afternoon tea with the down and dirty gin drinkers. You will have to make a hot cup of Earl Grey tea and then let it cool off. Once that's done, you place 2 oz. gin, 1.5 oz. Earl Grey tea, 3/4 oz. lemon juice, 1/2 oz. sugar syrup and 1/2 of an egg white into a cocktail shaker and shake well. You finish off the drink by double straining the liquid into a martini glass as fully explained in this recipe. And, of course, we should bring attention to the Vesper Martini, made famous by James Bond in the Casino Royale novel. Sean Connery delivered the directions to the bartender in the film adaptation saying, "A dry martini … Just a moment. Three measures of Gordon's, one of vodka, half a measure of Kina Lillet. Shake it very well until it's ice-cold, then add a large thin slice of lemon peel. Got it?"
We got it! Along with some other very British cocktails.
Should we try them all today? 
See More:
British Drinking Skills
8 Pointers for Brits Dating in America
British Drinking: Five Great Fictional Pubs
Read More
Filed Under: