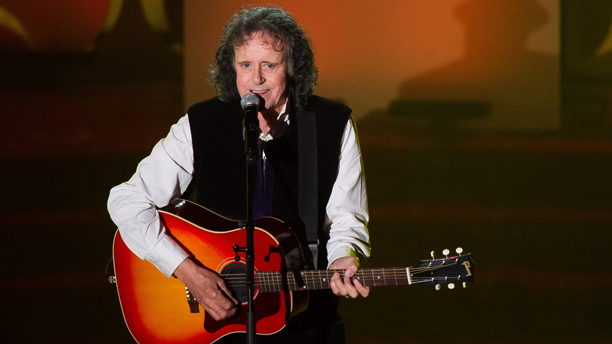 After five decades in the music business, British singer-songwriter Donovan has been honored by induction into the Songwriters Hall of Fame in New York.
On the red carpet before the induction ceremony on Thursday (June 12), he was clearly very pleased. He said, "It's extraordinary. A very bright shining light is on my music now and my songwriting."
With his early singles in the 1960s—titles such as "Sunshine Superman," "Mellow Yellow," and "The Hurdy Gurdy Man"—Donovan developed a big following on both sides of the Atlantic.
He has been remarkably prolific, with more than 35 studio and live albums to his name.
"I didn't know that one day I'd be recognized for a body of work that includes 500 songs, 300 released and 200 unknown. It's a great honor and I'm glad to be alive to get it."
Over the years his career has ebbed and flowed, but he's persisted. Singing and songwriting have been his life.
"I like doing it. Sometimes I withdraw, sometimes I come forward. I'm obsessed so I just continue and I love it," he says.
See more:
Five Reasons Ray Davies Deserves All of the Songwriter's Awards
What Are Classic Rock Awards Ceremonies For?
Read More
Filed Under: