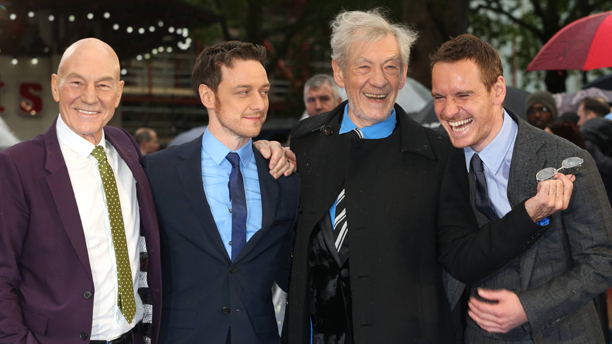 If this video sounds familiar to you, you're right in thinking so. Back in April, James McAvoy, Michael Fassbender and Hugh Jackman got together for a Yahoo! chat and it ended up with the three actors doing impersonations of their X-Men castmates Sirs Patrick Stewart and Ian McKellen.
It's one thing to do a friendly impersonation of your co-worker, when they're, oh say, in another country. But, this time around, Stewart and Ian McKellen were in the same room. Actually, the two were feeding McAvoy and Fassbender the questions, prompting them to do their best respective Stewart and McKellen impressions on command. Well, it is sort of payback time for the more seasoned actors.
This scenario could easily turn awkward, but really, the biggest problem was McAvoy and Fassbender both giggling too much to do the impersonations.
The best bit is at the end when McAvoy, who is off-camera, pleadingly asks Stewart, "Can you do one of me?!" He sounds like a little boy saying, "My turn, my turn." Fassbender asked McKellen the same, and the elder Magneto's response is priceless.
You can watch all the antics here:
Who did it best? 
See More:
James McAvoy, Hugh Jackman and Michael Fassbender Attempt Impersonations of 'X-Men' Castmates
Battle of the Bromances: Fassbender and McAvoy vs. McKellen and Stewart
PHOTOS: Sirs Patrick Stewart and Ian McKellen's NYC Adventures, Remembered
Read More
Filed Under: