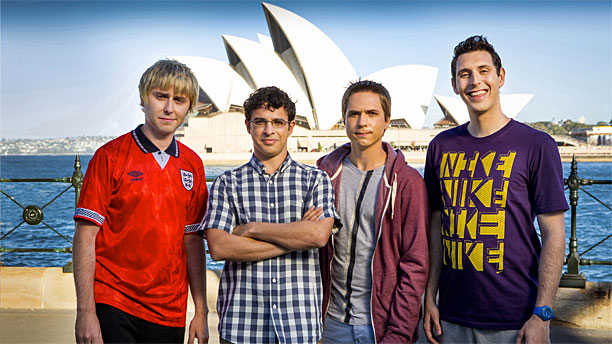 Fans of The Inbetweeners probably do not need to be warned that this trailer contains, if not the really nasty bad swearing, then definitely some words and ideas that are adult in nature. And by 'adult', I mean 'the very top end of teenage' and not 'thoughts concerning taxation and mortgages'.
For everyone else, all we can say is it's the sequel to the hugely-successful Inbetweeners movie, and that this time the four former school friends—played by James Buckley, Joe Thomas, Simon Bird and Blake Harrison—have taken a gap year vacation to Australia.
And that it's probably not safe to watch at work, or in front of your family. Or at all. Don't say we didn't warn you:
According to The Inbetweeners Facebook page, this trailer is just the base camp for fun. The real comedic heights are still to come:
"We're especially happy with the trailer as we think it's funny and – we promise – none of the best jokes are in it. None. We did that so that hopefully you'll still get surprised in the cinema, and enjoy the film even more."
The Inbetweeners 2 is in British cinemas on August 6.
See more:
Idris Elba 'Would Do Anything' In 'Inbetweeners' Sequel
The Five Most Angst-Ridden British Teenagers Ever
'The Inbetweeners' Film: Biggest Comedy Opening Ever
How To Bully An Inbetweener
Read More
Filed Under: