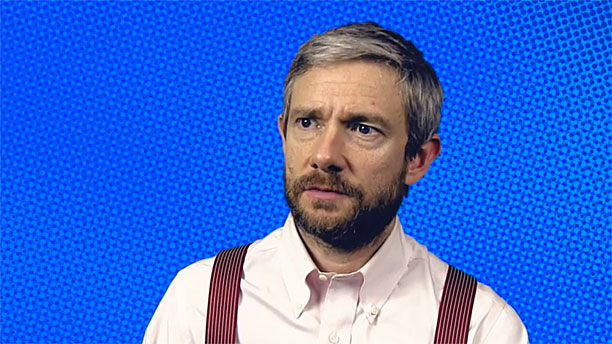 Martin Freeman's performance as Shakespeare's Richard III opens at the Trafalgar Theatre next week, as part of Trafalgar Transformed, and he and the cast have taken part in a talking heads video discussing the dominant themes of their production.
Amid the more commonly-expressed notions of Richard's poor self-image, due to his physical deformities and lack of romantic prospects, is a sharp appreciation from Martin—no stranger to comedy himself—of Shakespeare's biting wit, most notably coming out of Richard's misanthropic mouth:
"I think it's a very witty play. It's a very funny play as well as it being tragic, and some of it is horrible and some of it is really violent and quite gruesome. There's definitely a lot of humor in there."
He also appeared on the BBC's The Andrew Marr Show over the weekend, expressing the fond hope that this production has excised some of the "boring bits" that Shakespeare newcomers may find tough going:
https://www.youtube.com/watch?v=KrHQMkXRnrQ
Oh, and then there was the quote in the Telegraph about Sherlock reappearing as a sole Christmas special in 2015: "If that's going to be a special – I'm speaking off-message here; if this was New Labour I'd get fired – I think that might be for next Christmas. A Christmas special. That's what I understand."
Richard III opens tomorrow in London.
See more:
WATCH: Martin Freeman and the Cast of 'Fargo' Explain How the Show Differs from the Movie
'Sherlock' Recap: 'His Last Vow'
10 Reasons Why Steven Moffat's 'Sherlock' is the Best
Never Mind Sherlock Holmes, Say Hello To 'Curly Fu'
Read More
Filed Under: